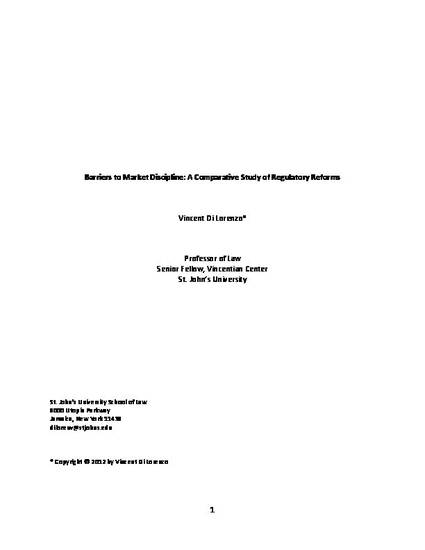 Unpublished Paper
Barriers to Market Discipline: A Comparative Study of Regulatory Reforms
ExpressO (2012)
Abstract
Barriers to Market Discipline: A Comparative Study of Mortgage Market Reforms This article explores regulatory reforms in the U.S. and U.K. in response to the recent mortgage market crisis. These reform efforts serve as case studies for evaluation of necessary reforms being considered in many nations. Two issues are examined. First, the article explores the extent to which regulatory bodies have recognized behavioral barriers to market discipline on the part of both consumers and industry actors. The academic literature has long identified such barriers, but recognition by government regulators has lagged. Second the article examines the varied response in the U.S. and U.K. to both market limitations and behavioral limitations to self-protection and self-discipline that led to unsafe lending practices in the period 2003 through 2007. The greater emphasis on rules-based regulation in the U.S. after 2008 is compared with the continued reliance primarily on principles-based regulation in the U.K. This difference, however, is not what will determine future outcomes. Rather, the main finding is that future compliance with safety and soundness requirements will depend on a regulatory policy and enforcement record that will alter the industry's past conclusion that evasion, or even noncompliance, with legal requirements is a reasonable business decision based on cost-benefit evaluations. In light of that finding, the U.K.'s new enforcement policy and record is far more likely to lead to compliance than the light-touch enforcement policy and record that has continued in the U.S.
Keywords
behavioral economics,
regulatory reform,
financial crisis
Publication Date
March 21, 2012
Citation Information
Vincent Di Lorenzo. "Barriers to Market Discipline: A Comparative Study of Regulatory Reforms"
ExpressO
(2012)
Available at: http://works.bepress.com/vincent_di_lorenzo/4/