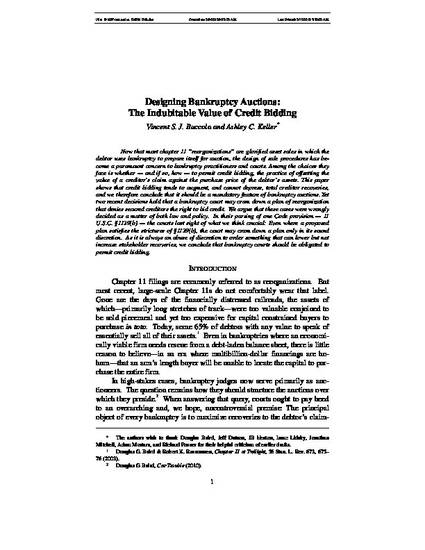 Unpublished Paper
Designing Bankruptcy Auctions: The Indubitable Value of Credit Bidding
ExpressO (2010)
Abstract
Now that most chapter 11 "reorganizations" are glorified asset sales in which the debtor uses bankruptcy to prepare itself for auction, the design of sale procedures has be-come a paramount concern to bankruptcy practitioners and courts. Among the choices they face is whether — and if so, how — to permit credit bidding, the practice of offsetting the value of a creditor's claim against the purchase price of the debtor's assets. This paper shows that credit bidding tends to augment, and cannot depress, total creditor recoveries, and we therefore conclude that it should be a mandatory feature of bankruptcy auctions. Yet two recent decisions hold that a bankruptcy court may cram down a plan of reorganization that denies secured creditors the right to bid credit. We argue that these cases were wrongly decided as a matter of both law and policy. In their parsing of one Code provision — 11 U.S.C. §1129(b) — the courts lost sight of what we think crucial: Even where a proposed plan satisfies the strictures of §1129(b), the court may cram down a plan only in its sound discretion. As it is always an abuse of discretion to order something that can lower but not increase stakeholder recoveries, we conclude that bankruptcy courts should be obligated to permit credit bidding.
Keywords
Credit Bidding,
Philadelphia Newspapers,
Pacific Lumber,
363(k),
1129(b)
Publication Date
February 10, 2010
Citation Information
Vincent S. J. Buccola and Ashley C. Keller. "Designing Bankruptcy Auctions: The Indubitable Value of Credit Bidding"
ExpressO
(2010)
Available at: http://works.bepress.com/vincent_buccola/3/