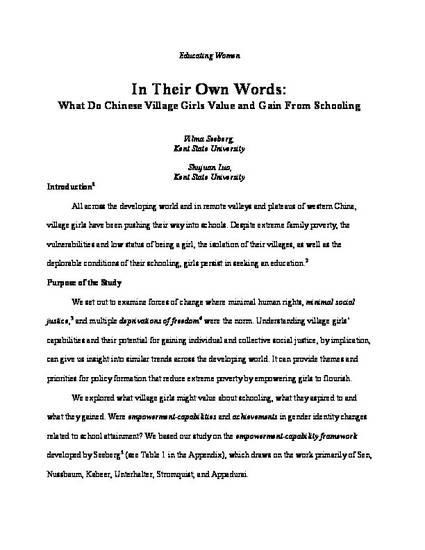 Article
In their own words_What do Chinese village girls value and gain from schooling- 96-311-1-PB.pdf
Educating Women: The Journal of the Society for Educating Women (2016)
Abstract
In remote valleys and plateaus of western China, village girls have been pushing their way into schools. Despite extreme family poverty, the vulnerabilities and low status of being a girl, the isolation of their villages, as well as the deplorable conditions of their schooling, girls persist in seeking an education. We examine forces of change where minimal human rights,
minimal social justice
,and multiple
deprivations of freedom
were the norm. We brought to light village girls' capabilities and their potential for gaining individual and collective social justice.
Their schooling provided all the village girls with identity, legitimacy, visibility and respect in the eyes of their families and local communities and elevated the value of schooling or younger village daughters. These themes by implication may be repeated across the developing world and provide priorities for policy formation to reduce extreme poverty by empowering girls to flourish.
Keywords
Girls education,
Rural China,
Capabilities,
Empowerment
Publication Date
Spring January, 2016
Citation Information
Vilma Seeberg and Shujuan Luo. "In their own words_What do Chinese village girls value and gain from schooling- 96-311-1-PB.pdf"
Educating Women: The Journal of the Society for Educating Women
Vol. 3 Iss. 1 (2016) p. 1 - 30
Available at: http://works.bepress.com/vilma_seeberg/12/