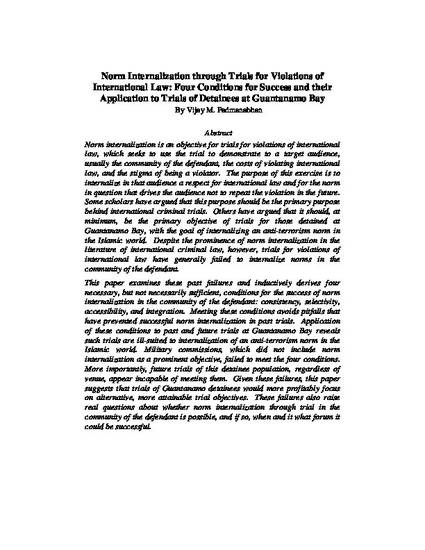 Unpublished Paper
Norm Internalization through Trials for Violations of International Law: Four Conditions for Success and their Application to Trials of Detainees at Guantanamo Bay
ExpressO (2009)
Abstract
Norm internalization is an objective for trials for violations of international law, which seeks to use the trial to demonstrate to a target audience, usually the community of the defendant, the costs of violating international law, and the stigma of being a violator. The purpose of this exercise is to internalize in that audience a respect for international law and for the norm in question that drives the audience not to repeat the violation in the future. Some scholars have argued that this purpose should be the primary purpose behind international criminal trials. Others have argued that it should, at minimum, be the primary objective of trials for those detained at Guantanamo Bay, with the goal of internalizing an anti-terrorism norm in the Islamic world. Despite the prominence of norm internalization in the literature of international criminal law, however, trials for violations of international law have generally failed to internalize norms in the community of the defendant.
This paper examines these past failures and inductively derives four necessary, but not necessarily sufficient, conditions for the success of norm internalization in the community of the defendant: consistency, selectivity, accessibility, and integration. Meeting these conditions avoids pitfalls that have prevented successful norm internalization in past trials. Application of these conditions to past and future trials at Guantanamo Bay reveals such trials are ill-suited to internalization of an anti-terrorism norm in the Islamic world. Military commissions, which did not include norm internalization as a prominent objective, failed to meet the four conditions. More importantly, future trials of this detainee population, regardless of venue, appear incapable of meeting them. Given these failures, this paper suggests that trials of Guantanamo detainees would more profitably focus on alternative, more attainable trial objectives. These failures also raise real questions about whether norm internalization through trial in the community of the defendant is possible, and if so, when and it what forum it could be successful.
Keywords
Guantanamo,
International Criminal Law,
War Crimes,
Norm Internalization,
Expressive Theory of Punishment,
Pedagogical Aims of Trials,
Terrorism
Publication Date
August 17, 2009
Citation Information
Vijay M Padmanabhan. "Norm Internalization through Trials for Violations of International Law: Four Conditions for Success and their Application to Trials of Detainees at Guantanamo Bay"
ExpressO
(2009)
Available at: http://works.bepress.com/vijay_padmanabhan/1/