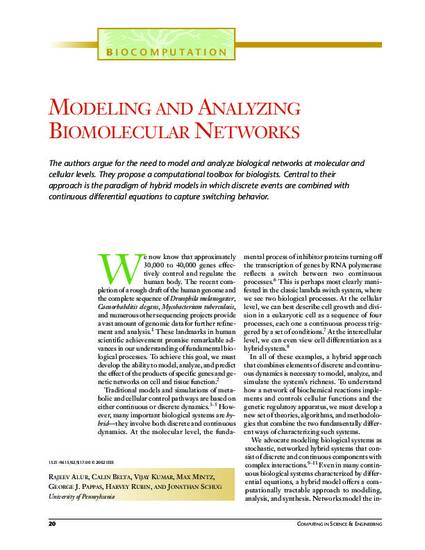 Article
Modeling and Analyzing Biomolecular Networks
Computing in Science and Engineering
Date of this Version
1-1-2002
Document Type
Journal Article
Abstract
The authors argue for the need to model and analyze biological networks at molecular and cellular levels. They propose a computational toolbox for biologists. Central to their approach is the paradigm of hybrid models in which discrete events are combined with continuous differential equations to capture switching behavior.
Copyright/Permission Statement
© 2002 IEEE. Personal use of this material is permitted. Permission from IEEE must be obtained for all other uses, in any current or future media, including reprinting/republishing this material for advertising or promotional purposes, creating new collective works, for resale or redistribution to servers or lists, or reuse of any copyrighted component of this work in other works.
Keywords
biocomputing,
biomolecular electronics,
discrete event simulation,
stochastic systems,
agents,
biological networks,
biomolecular networks,
cellular levels,
computational toolbox,
discrete events,
genetic circuits,
hybrid models,
modes,
molecular levels,
switching behavior
Citation Information
Rajeev Alur, Calin Belta, R. Vijay Kumar, Max L Mintz, et al.. "Modeling and Analyzing Biomolecular Networks"
Computing in Science and Engineering
Vol. 4 Iss. 1 (2002) p. 20 - 31
Available at: http://works.bepress.com/vijay_kumar/52/