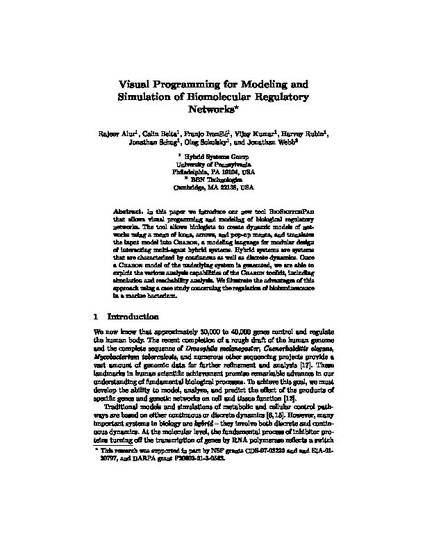 Article
Visual Programming for Modeling and Simulation of Biomolecular Regulatory Networks
Lecture Notes in Computer Science: High Performance Computing, HiPC 2002
Date of this Version
12-18-2002
Document Type
Conference Paper
Abstract
In this paper we introduce our new tool BIOSKETCHPAD that allows visual programming and modeling of biological regulatory networks. The tool allows biologists to create dynamic models of networks using a menu of icons, arrows, and pop-up menus, and translates the input model into CHARON, a modeling language for modular design of interacting multi-agent hybrid systems. Hybrid systems are systems that are characterized by continuous as well as discrete dynamics. Once a CHARON model of the underlying system is generated, we are able to exploit the various analysis capabilities of the CHARON toolkit, including simulation and reachability analysis. We illustrate the advantages of this approach using a case study concerning the regulation of bioluminescence in a marine bacterium.
DOI
10.1007/3-540-36265-7_67
Copyright/Permission Statement
The original publication is available at www.springerlink.com
Citation Information
Rajeev Alur, Calin Belta, Franjo Ivancic, R. Vijay Kumar, et al.. "Visual Programming for Modeling and Simulation of Biomolecular Regulatory Networks"
Lecture Notes in Computer Science: High Performance Computing, HiPC 2002
Vol. 2552 (2002) p. 702 - 712
Available at: http://works.bepress.com/vijay_kumar/13/