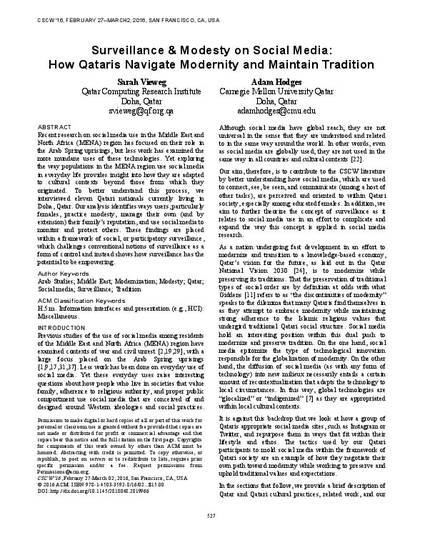 Article
Surveillance & Modesty on Social Media: How Qataris Navigate Modernity and Maintain Tradition
Proceedings of CSCW 2016 (2016)
Abstract
Recent research on social media use in the Middle East and North Africa (MENA) region has focused on their role in the Arab Spring uprisings, but less work has examined the more mundane uses of these technologies. Yet exploring the way populations in the MENA region use social media in everyday life provides insight into how they are adapted to cultural contexts beyond those from which they originated. To better understand this process, we interviewed eleven Qatari nationals currently living in Doha, Qatar. Our analysis identifies ways users, particularly females, practice modesty, manage their own (and by extension) their family's reputation, and use social media to monitor and protect others. These findings are placed within a framework of social, or participatory surveillance, which challenges conventional notions of surveillance as a form of control and instead shows how surveillance has the potential to be empowering.
Publication Date
Winter February 29, 2016
Citation Information
Sarah Vieweg and Adam Hodges. "Surveillance & Modesty on Social Media: How Qataris Navigate Modernity and Maintain Tradition"
Proceedings of CSCW 2016
(2016)
Available at: http://works.bepress.com/vieweg/21/