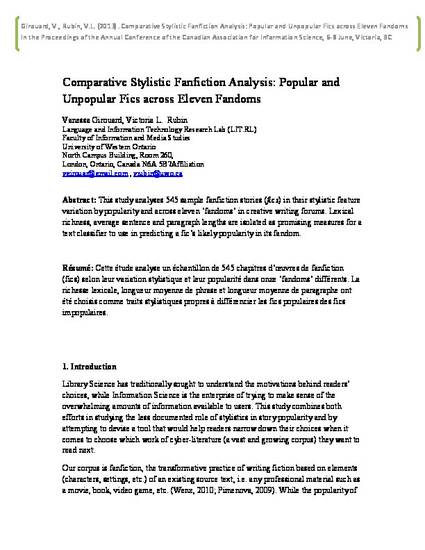 Article
Comparative Stylistic Fanfiction Analysis: Popular and Unpopular Fics across Eleven Fandoms
Proceedings of the Annual Conference of the Canadian Association for Information Science
Document Type
Conference Proceeding
Publication Date
1-1-2013
Abstract
Abstract: This study analyses 545 sample fanfiction stories (fics) in their stylistic feature variation by popularity and across eleven 'fandoms' in creative writing forums. Lexical richness, average sentence and paragraph lengths are isolated as promising measures for a text classifier to use in predicting a fic's likely popularity in its fandom. Résumé: Cette étude analyse un échantillon de 545 chapitres d'œuvres de fanfiction (fics) selon leur variation stylistique et leur popularité dans onze 'fandoms' différents. La richesse lexicale, longueur moyenne de phrase et longueur moyenne de paragraphe ont été choisis comme traits stylistiques propres à différencier les fics populaires des fics impopulaires.
Citation Information
Victoria L Rubin and Vanessa Girouard. "Comparative Stylistic Fanfiction Analysis: Popular and Unpopular Fics across Eleven Fandoms"
Proceedings of the Annual Conference of the Canadian Association for Information Science
(2013)
Available at: http://works.bepress.com/victoriarubin/7/