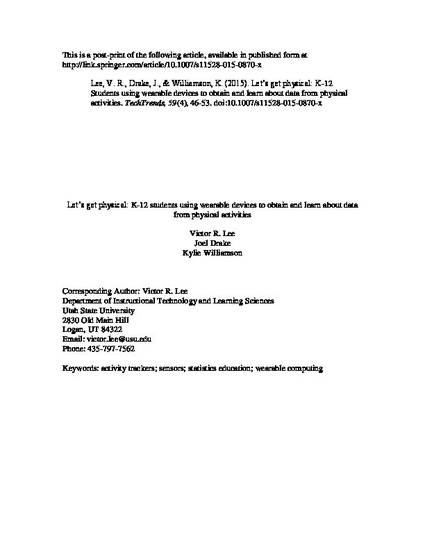 Article
Let's get physical: K-12 Students using wearable devices to obtain and learn about data from physical activities
TechTrends (2015)
Abstract
Accessibility to wearable technology has exploded in the last decade. As such, this technology has potential to be used in classrooms in uniquely interactive and personally meaningful ways. Seeing this as a possible future for schools, we have been exploring approaches for designing activities to incorporate wearable physical activity data tracking technologies to help students learn how to interpret data. This article describes four instances of designed learning activities in which wearable physical activity data tracking devices in use with K-12 students. Of special note is how the devices could be used to help students learn both content related to statistics and about physical activities in general. We also identify some of the challenges associated with the use of such devices that others who may use wearable technology in the classroom may wish to consider.
Keywords
activity trackers,
sensors,
statistics education,
wearable computing
Citation Information
Victor R Lee, Joel Drake and Kylie Williamson. "Let's get physical: K-12 Students using wearable devices to obtain and learn about data from physical activities"
TechTrends
Vol. 59 Iss. 4 (2015)
Available at: http://works.bepress.com/victor_lee/34/