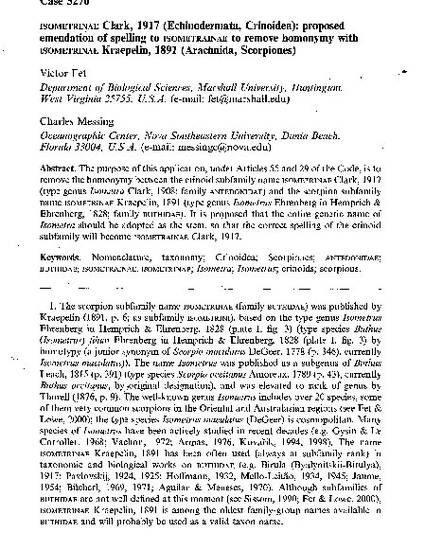 Article
Case 3270: Isometrinae Clark, 1917 (Ecinodermata, Crinoidea): Proposed Emendation of Spelling to Isometrainae to Remove Homonymy with Isometrinae Kraepelin, 1891 (Arachnida, Scorpiones)
Bulletin of Zoological Nomenclature
Publication Date
12-1-2003
Keywords
Nomenclature,
Taxonomy,
Crinoidea,
Scorpiones,
Antedonidae,
Buthidae,
Isometrainae,
Isometrinae,
Isometra,
Isometrus,
Crinoids,
Scorpions
Abstract
The purpose of this application, under Articles 55 and 29 of the Code, is to remove the homonymy between the crinoid subfamily name ISOMETRINAE Clark, 1917 (type genus Isometra Clark, 1908; family ANTEDONIDAE) and the scorpion subfamily name ISOMETRINAE Kraepelin, 1891 (type genus Isometrus Ehrenberg in Hemprich & Ehrenberg, 1828; family BUTHIDAE). It is proposed that the entire generic name of Isometra should be adopted as the stem, so that the correct spelling of the crinoid subfamily will become ISOMETRAINAE Clark, 1917.
Citation Information
Fet, Victor and Charles Messing (2003) Case 3270: Isometrinae Clark, 1917 (Ecinodermata, Crinoidea): Proposed Emendation of Spelling to Isometrainae to Remove Homonymy with Isometrinae Kraepelin, 1891 (Arachnida, Scorpiones). Bulletin of Zoological Nomenclature 60(4): 293-296.