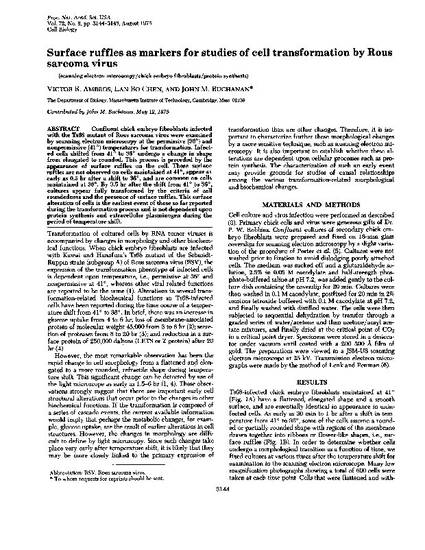 Article
Surface ruffles as markers for studies of cell transformation by Rous sarcoma virus
Proceedings of the National Academy of Sciences of the United States of America (1975)
Abstract
Confluent chick embryo fibroblasts infected with the Ts68 mutant of Rous sarcoma virus were examined by scanning electron microscopy at the permissive (36 degrees) and nonpermissive (41 degrees) temperatures for transformation. Infected cells shifted from 41 degrees to 36 degrees undergo a change in shape from elongated to rounded. This process is preceded by the appearance of surface ruffles on the cell. These surface ruffles are not observed on cells maintained at 41 degrees, appear as early as 0.5 hr after a shift to 36 degrees, and are common on cells maintained at 36 degrees. By 3.5 hr after the shift from 41 degrees to 36 degrees, cultures appear fully transformed by the criteria of cell roundedness and the presence of surface ruffles. This surface alteration of cells is the earliest event of those so far reported during the transformation process and is not dependent upon protein synthesis and extracellular plasminogen during the period of temperature shift.
Publication Date
August, 1975
Citation Information
Victor R. Ambros, Lan Bo Chen and John M. Buchanan. "Surface ruffles as markers for studies of cell transformation by Rous sarcoma virus"
Proceedings of the National Academy of Sciences of the United States of America
Vol. 72 Iss. 8 (1975)
Available at: http://works.bepress.com/victor_ambros/92/