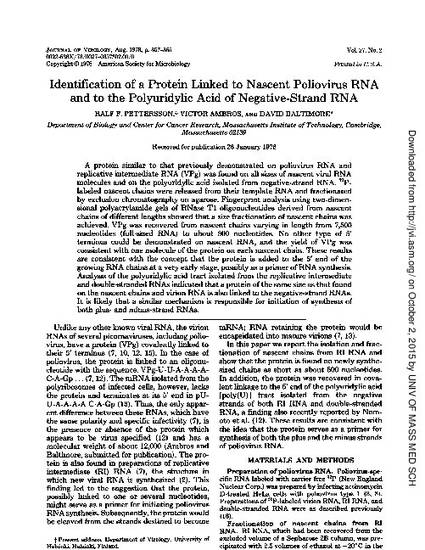 Article
Identification of a protein linked to nascent poliovirus RNA and to the polyuridylic acid of negative-strand RNA
Journal of Virology (1978)
Abstract
A protein similar to that previously demonstrated on poliovirus RNA and replicative intermediate RNA (VPg) was found on all sizes of nascent viral RNA molecules and on the polyuridylic acid isolated from negative-strand RNA. 32P-labeled nascent chains were released from their template RNA and fractionated by exclusion chromatography on agarose. Fingerprint analysis using two-dimensional polyacrylamide gels of RNase T1 oligonucleotides derived from nascent chains of different lengths showed that a size fractionation of nascent chains was achieved. VPg was recovered from nascent chains varying in length from 7,500 nucleotides (full-sized RNA) to about 500 nucleotides. No other type of 5' terminus could be demonstrated on nascent RNA, and the yield of VPg was consistent with one molecule of the protein on each nascent chain. These results are consistent with the concept that the protein is added to the 5' end of the growing RNA chains at a very early stage, possibly as a primer of RNA synthesis. Analysis of the polyuridylic acid tract isolated from the replicative intermediate and double-stranded RNAs indicated that a protein of the same size as that found on the nascent chains and virion RNA is also linked to the negative-strand RNAs. It is likely that a similar mechanism is responsible for initiation of synthesis of both plus- and minus-strand RNAs.
Publication Date
August, 1978
Citation Information
Ralf F. Pettersson, Victor R. Ambros and David Baltimore. "Identification of a protein linked to nascent poliovirus RNA and to the polyuridylic acid of negative-strand RNA"
Journal of Virology
Vol. 27 Iss. 2 (1978)
Available at: http://works.bepress.com/victor_ambros/89/