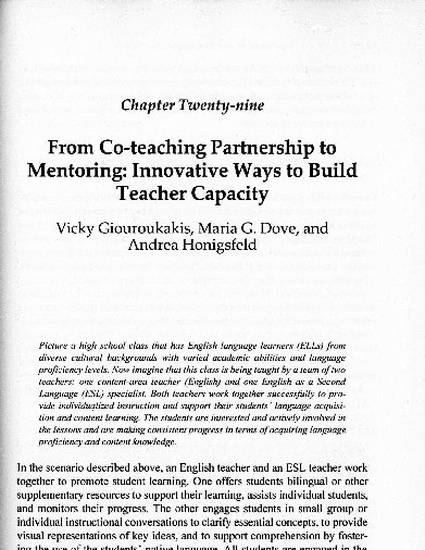 Book
From Co-teaching Partnership to Mentoring: Innovative Ways to Build Teacher Capacity
Breaking the Mold of Education for Culturally and Linguistically Divers Students: Innovative and Successful Practices for the 21st Century
Publication Date
1-1-2012
Publisher's Statement
All rights reserved. Please contact the publisher for permission to copy, distribute or reprint. Giouroukakis, V., Dove, M., & Honigsfeld, A. (2012). From co-teaching partnership to mentoring: Innovative ways to build teacher capacity. In A. Honigsfeld, & A. Cohan (Eds.). Breaking the Mold of Education for Culturally and Linguistically Diverse Students: Innovative and Successful Practices for the 21st Century (pp. 265-274). Reproduced by permission of Rowman & Littlefield, https://rowman.com/
Abstract
Picture a high school class that has English language learners (ELLs) from diverse cultural backgrounds with varied academic abilities and language proficiency levels. Now imagine that this class is being taught by a team of two teachers: one content-area teacher (English) and one English as a Second Language (ESL) specialist. Both teachers work together successfully to provide individualized instruction and support their students' language acquisition and content learning. The students are interested and actively involved in the lessons and are making consistent progress in terms of acquiring language proficiency an content knowledge.
Citation Information
Andrea Honigsfeld, Vicky Giouroukakis and Maria G. Dove. From Co-teaching Partnership to Mentoring: Innovative Ways to Build Teacher Capacity.
Breaking the Mold of Education for Culturally and Linguistically Divers Students: Innovative and Successful Practices for the 21st Century
(2012)
Available at: http://works.bepress.com/vicky-giouroukakis/17/