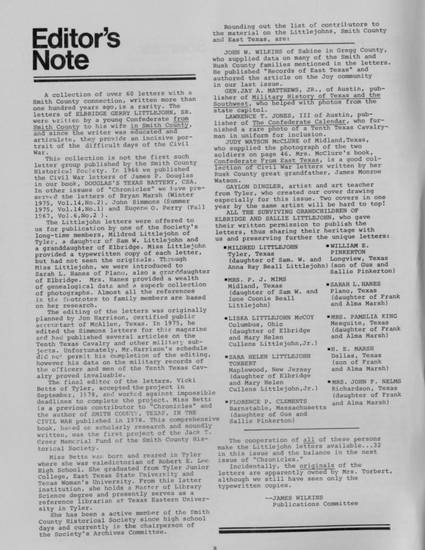 Article
"The Civil War Letters of Elbridge Littlejohn, Part 1." Chronicles of Smith County, Texas 17 no. 2 (Winter, 1978): 8-60.
Presentations and Publications
Publication Date
1-1-1978
Abstract
Letters between Elbridge Gerry Littlejohn of the 10th Texas Cavalry, and his wife Sallie Jeffries Littlejohn in Starrville, Smith County, Texas, during the Civil War.
Persistent identifier
http://hdl.handle.net/10950/447
Citation Information
Vicki Betts. ""The Civil War Letters of Elbridge Littlejohn, Part 1." Chronicles of Smith County, Texas 17 no. 2 (Winter, 1978): 8-60." (1978)
Available at: http://works.bepress.com/vicki-betts/40/