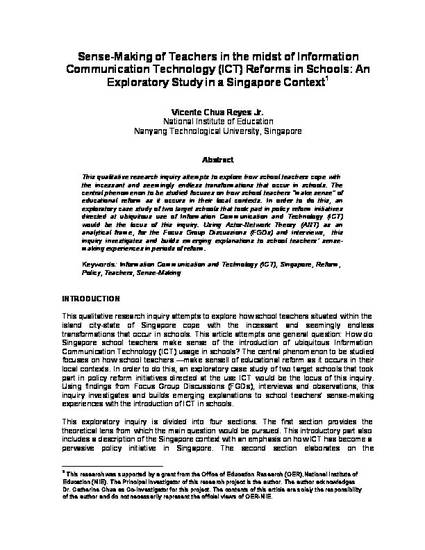 Article
Sense-Making of Teachers in the midst of Information Communication Technology (ICT) Reforms in Schools: An Exploratory Case Study
TMC Academy Journal (2013)
Abstract
This qualitative research inquiry attempts to explore how school teachers cope with the incessant and seemingly endless transformations that occur in schools. The central phenomenon to be studied focuses on how school teachers "make sense" of educational reform as it occurs in their local contexts. In order to do this, an exploratory case study of two target schools that took part in policy reform initiatives directed at ubiquitous use of Information Communication and Technology (ICT) would be the locus of this inquiry. Using Actor-Network Theory (ANT) as an analytical frame, for the Focus Group Discussions (FGDs) and interviews, this inquiry investigates and builds emerging explanations to school teachers' sensemaking experiences in periods of reform.
Keywords
Information Communication Technology (ICT)
Publication Date
August 31, 2013
Citation Information
Vicente C Reyes. "Sense-Making of Teachers in the midst of Information Communication Technology (ICT) Reforms in Schools: An Exploratory Case Study"
TMC Academy Journal
Vol. 7 Iss. 3 (2013)
Available at: http://works.bepress.com/vicente_reyes/3/