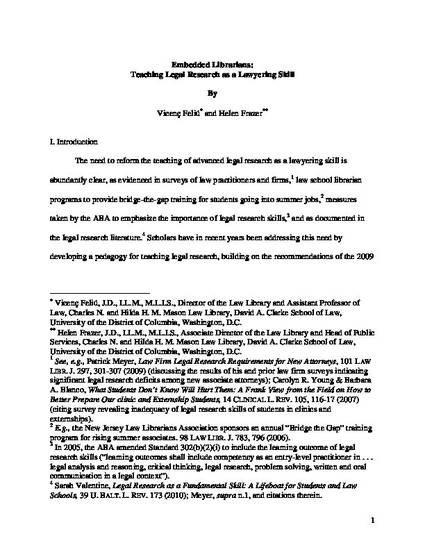 Unpublished Paper
Embedded Librarians: Teaching Legal Research as a Lawyering Skill
ExpressO (2010)
Abstract
This article addresses a proposed pedagogy for teaching the lawyering skill of advanced legal research in practice environment, such as a clinic, consonant with the recommendations of the 2007 Carnegie Report, Educating Lawyers, and the 1992 ABA Taskforce on Law Schools and the Profession, Legal Education and Professional Development (the MacCrate Report). It examines how the relatively new trend of embedding librarians in practice settings, offering assistance at the point of need, could be effective in law schools. It proposes a model for teaching advanced legal research by embedding law librarians in law school clinics based on the experiment conducted at the UDC David A. Clarke School of Law, begun by first embedding one librarian in the Juvenile and Special Education Law Clinic and then continued by adding on other clinics. This paper has been accepted for presentation at the AALS Workshop for Deans and Law Librarians of the AALS Annual Meeting on January, 6th, 2011.
Keywords
clinic,
research,
pedagogy,
librarian,
practice,
research skills,
carnegie,
maccrate,
Educating Lawyers
Citation Information
Vicenç Feliú and Helen Frazer. "Embedded Librarians: Teaching Legal Research as a Lawyering Skill"
ExpressO
(2010)
Available at: http://works.bepress.com/vicenc_feliu/2/