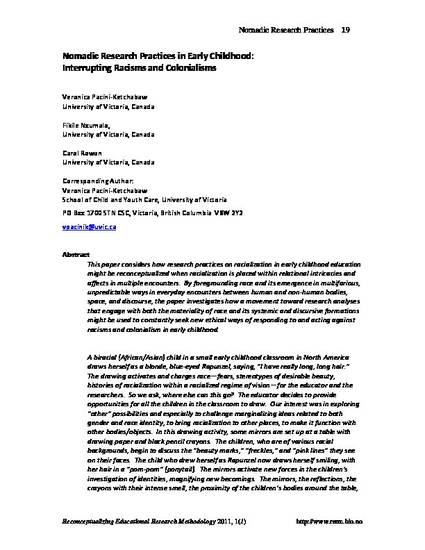 Article
Nomadic Research Practices in Early Childhood: Interrupting Racisms and Colonialisms
Reconceptualizing Educational Research Methodology
Publication Date
1-1-2011
Abstract
This paper considers how research practices on racialization in early childhood education might be reconceptualized when racialization is placed within relational intricacies and affects in multiple encounters. By foregrounding race and its emergence in multifarious, unpredictable ways in everyday encounters between human and non-human bodies, space, and discourse, the paper investigates how a movement toward research analyses that engage with both the materiality of race and its systemic and discursive formations might be used to constantly seek new ethical ways of responding to and acting against racisms and colonialism in early childhood.
Citation Information
Veronica Pacini-Ketchabaw, Fikile Nxumalo and Carol Rowan. "Nomadic Research Practices in Early Childhood: Interrupting Racisms and Colonialisms"
Reconceptualizing Educational Research Methodology
(2011)
Available at: http://works.bepress.com/veronica-pacini-ketchabaw/5/