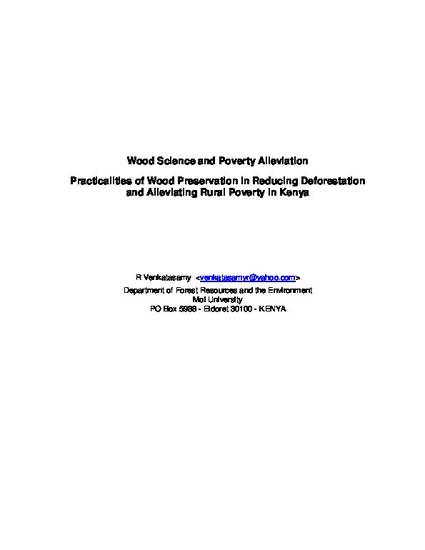 Unpublished Paper
WOODSCIENCE AND POVERTY-RURAL WOOD PRESERVATION.doc
(2016)
Abstract
The present high level of rural poverty in Africa is mainly because of political neglect and lack of timely interventions, rather than lack of financial capacity, or improper planning and inappropriate policies.  The main cause is undoubtedly uncontrolled population growth, as is the case in Kenya, where the population grew from 4 million in the early 1950s to over 32 million five decades later.  The magnitude of economic and environmental damage caused by poverty in developing countries waited until the Rio Declaration of 1992, and the Kyoto Protocol of 1997 to bring governments to the realization that it was time for reactions, and speedy action.  The significance of forestry and forest products on rural economies and poverty levels has been consistently downplayed in Kenya, since both have always been considered as propriety of the state.  However, mismanagement, bad planning, corruption, and political interferences have all contributed to high levels of unjustified, and in most cases illegal deforestation, forcing rural communities to lean heavily on natural resources within their immediate environments, leading to environmental degradation and increased poverty.  Attempts to reduce rural poverty in the country have been institutionalised and too remote from the realities on the ground, and hence the reason why they have failed.  Rather than wasting resources on rhetorics, lengthy documents, and policies and plans that are unworkable, it is suggested that rural communities should be induced to tackle poverty in their own areas, using their own resources.  Increasing the acreage of farm forests, improving the quality of forest management, and more importantly, adding value to forest products should make a difference to rural economies.  Low-cost techniques of chemical wood preservation is suggested as one practical method of increasing service life of timbers in use, thereby conserving forests, and making the many benefits that forests represent for rural communities more permanent. 
Keywords
Poverty-Forestry-Forest products- Deforestation-Causes-Consequences Farm Forestry-Wood Preservation-Value-Adding-Conservation
Publication Date
Summer August 19, 2016
Citation Information
Venkatasamy Ramakrishna. "WOODSCIENCE AND POVERTY-RURAL WOOD PRESERVATION.doc" (2016)
Available at: http://works.bepress.com/venkatasamy-ramakrishna/4/
Creative Commons License
This work is licensed under a Creative Commons CC_BY-NC-SA International License.