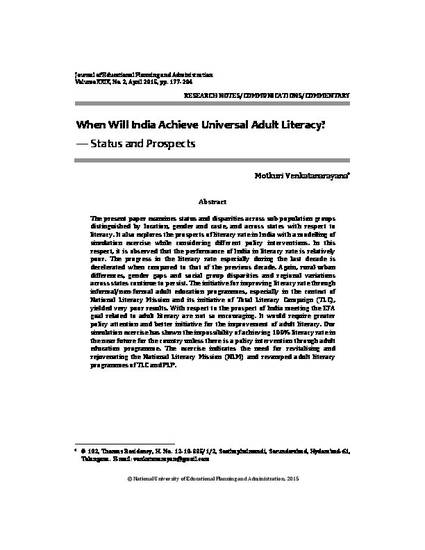 Article
When Will India Achieve Universal Adult Literacy : Status and Prospects
Journal of Educational Planning and Administration (2015)
Abstract
The main objective of the paper is to assess the prospects of achieving universal adult literacy with a policy intervention factor through adult literacy programmes targeting different age groups. The paper begin with the analysis examining the status and disparities across sub-population groups distinguished by location, gender and caste, and across, states with respect to literacy. Then it proceeds to explore the prospects of literacy rate in India with a modelling of simulation exercise while considering different policy interventions. In this respect it is observed that the performance of India in literacy rate is relatively poor. The progress in the literacy rate especially during the last decade is decelerated when compared to that of the previous decade. Again, rural-urban differences, gender gaps and social group disparities and regional variations across states continue to persist. The initiative for improving literacy rate through informal/non-formal adult education programmes especially in the context of National Literacy Mission and its initiative of Total Literacy Campaign (TLC) yielded very poor results. With respect to the prospects of India in meeting the EFA goal related to adult literacy are not so encouraging. It would require greater policy attention and better initiative for the improvement of adult literacy. Our simulation exercise has shown that the impossibility of achieving 100% literacy rate in the near future for the country unless there is a policy intervention through adult education programme. The exercise indicates the need for revitalising and rejuvenating the National Literacy Mission (NLM) and revamped adult literacy programmes of TLC and PLP.
Keywords
Literacy,
Adult Literacy,
India
Publication Date
April, 2015
Citation Information
Venkatanarayana Motkuri. "When Will India Achieve Universal Adult Literacy : Status and Prospects"
Journal of Educational Planning and Administration
Vol. 29 Iss. 1 (2015)
Available at: http://works.bepress.com/venkatanarayana_motkuri/5/