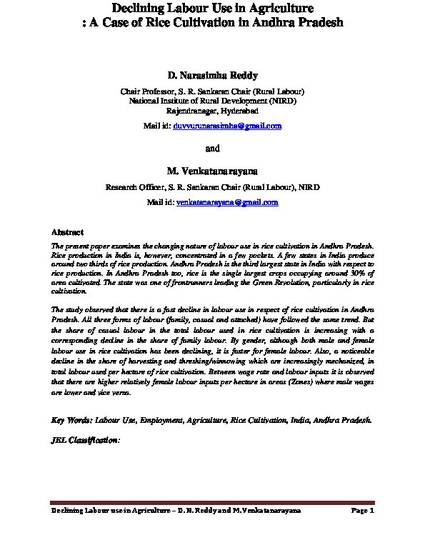 Unpublished Paper
Declining Labour Use in Agriculture : A Case of Rice Cultivation in Andhra Pradesh
Paper Presented at 55th ISLE Annual Conference held at JNU Delhi in December 2013 (2013)
Abstract
The present paper examines the changing nature of labour use in rice cultivation in Andhra Pradesh. Rice production in India is, however, concentrated in a few pockets. A few states in India produce around two thirds of rice production. Andhra Pradesh is the third largest state in India with respect to rice production. In Andhra Pradesh too, rice is the single largest crops occupying around 30% of area cultivated. The state was one of frontrunners leading the Green Revolution, particularly in rice cultivation.
The study observed that there is a fast decline in labour use in respect of rice cultivation in Andhra Pradesh. All three forms of labour (family, casual and attached) have followed the same trend. But the share of casual labour in the total labour used in rice cultivation is increasing with a corresponding decline in the share of family labour. By gender, although both male and female labour use in rice cultivation has been declining, it is faster for female labour. Also, a noticeable decline in the share of harvesting and threshing/winnowing which are increasingly mechanized, in total labour used per hectare of rice cultivation. Between wage rate and labour inputs it is observed that there are higher relatively female labour inputs per hectare in areas (Zones) where male wages are lower and vice versa.
There is a significant decline in female labour all operations of rice cultivation in the state. Such a trend entices a kind of explanation for the declining female labour participation rates and there by declining size of female labour, in general, in Andhra Pradesh as well as in the country as a whole. Also the evidence is presenting a case against the hypothesis that there is a feminization of labour use in agriculture in India. There are two lines of reasoning for the decline of female labour use in agriculture in general rice cultivation in particular. One is the increasing in male wages to the extent it covers 'living' or 'family' wage might be having bearing on the participation of female in labourforce for whom it is otherwise necessary in distress conditions. The other one is mechanization process itself might be pushing the agricultural labourer especially the females out of labour force.
Keywords
Labour,
Rural Labour,
Agricultural Labour,
Rice,
Female Labour,
Andhra Pradesh
Publication Date
December, 2013
Citation Information
Narasimha Reddy Duvvuri and Venkatanarayana Motkuri. "Declining Labour Use in Agriculture : A Case of Rice Cultivation in Andhra Pradesh"
Paper Presented at 55th ISLE Annual Conference held at JNU Delhi in December 2013
(2013)
Available at: http://works.bepress.com/venkatanarayana_motkuri/2/