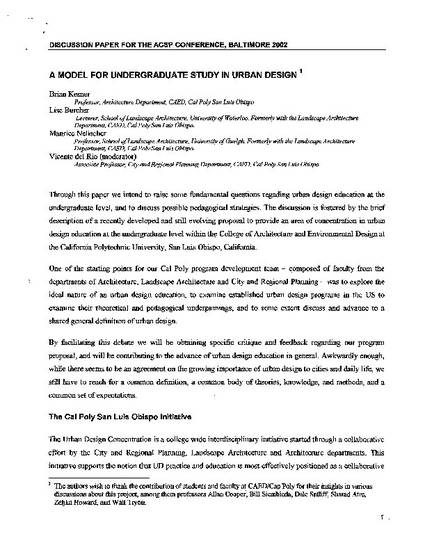 Article
A Model for Undergraduate Study in Urban Design
Association of Collegiate Schools of Planning Conference Proceedings: Baltimore, MD
Publication Date
11-21-2002
Abstract
Through this paper we intend to raise some fundamental questions regarding urban design education at the undergraduate level, and to discuss possible pedagogical strategies. The discussion is fostered by the brief description of a recently developed and still evolving proposal to provide an area of concentration in urban design education at the undergraduate level within the College of Architecture and Environmental Design at the California Polytechnic University, San Luis Obispo, California. One of the starting points for our Cal Poly program development team - composed of faculty from the departments of Architecture, Landscape Architecture and City and Regional Planning - was to explore the ideal nature of an urban design education, to examine established urban design programs in the US to examine their theoretical and pedagogical underpinnings, and to some extent discuss and advance to a shared general definition of urban design. By facilitating this debate we will be obtaining specific critique and feedback regarding our program proposal, and will be contributing to the advance of urban design education in general. Awkwardly enough, while there seems to be an agreement on the growing importance of urban design to cities and daily life, we still have to reach for a common definition, a common body of theories, knowledge, and methods, and a common set of expectations.
Citation Information
Brian Kesner, Lise Burcher, Maurice Nelischer and Vicente del Rio. "A Model for Undergraduate Study in Urban Design"
Association of Collegiate Schools of Planning Conference Proceedings: Baltimore, MD
(2002)
Available at: http://works.bepress.com/vdelrion/3/