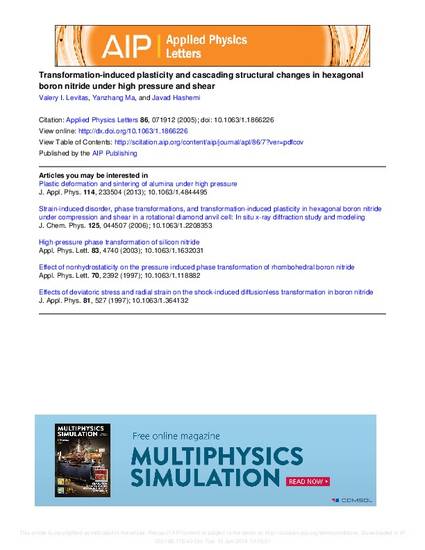 Article
Transformation-induced plasticity and cascading structural changes in hexagonal boron nitride under high pressure and shear
Applied Physics Letters (2005)
Abstract
In situx-ray diffraction study and modeling of the degree of disorder, s, and phase transformation (PT) in hexagonal hBN were performed. It was proven that changes in s are strain-induced and that s can be used to quantify plastic strain. During the strain-induced hBN→wurtzitic wBN PT, the transformation-induced plasticity (TRIP) was exposed and quantified. TRIP exceeds conventional plasticity by a factor of 20. Cascading structural changes were revealed. Strain-induced disorder explains why PT under hydrostatic and nonhydrostatic conditions started at the same pressure∼10GPa. For the same disorder, plastic shear reduces PT pressure by a factor of 3–4.
Keywords
Center for Mechanochemistry and Synthesis of New Materials
Citation Information
Valery I. Levitas, Yanzhang Ma and Javad Hashemi. "Transformation-induced plasticity and cascading structural changes in hexagonal boron nitride under high pressure and shear"
Applied Physics Letters
Vol. 86 (2005)
Available at: http://works.bepress.com/valery_levitas/35/