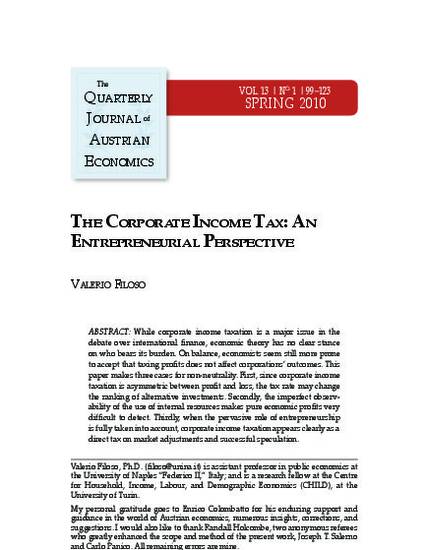 Article
The Corporate Income Tax: An Entrepreneurial Perspective
The Quarterly Journal of Austrian Economics (2010)
Abstract
While corporate income taxation is a major issue in the debate over international finance, economic theory has no clear stance on who bears its burden. On balance, economists seem still more prone to accept that taxing profits does not affect corporations' outcomes. This paper makes three cases for non-neutrality. First, since corporate income taxation is asymmetric between profit and loss, the tax rate may change the ranking of alternative investments. Secondly, the imperfect observ- ability of the use of internal resources makes pure economic profits very difficult to detect. Thirdly, when the pervasive role of entrepreneurship is fully taken into account, corporate income taxation appears clearly as a direct tax on market adjustments and successful speculation.
Keywords
Entrepreneurship,
Taxation,
Corporate finance
Citation Information
Valerio Filoso. "The Corporate Income Tax: An Entrepreneurial Perspective"
The Quarterly Journal of Austrian Economics
Vol. 13 Iss. 1 (2010)
Available at: http://works.bepress.com/valerio_filoso/5/