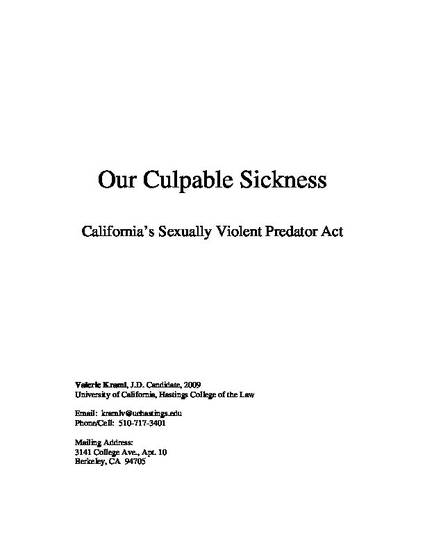 Unpublished Paper
Our Culpable Sickness: California's Sexually Violent Predator's Act
ExpressO (2009)
Abstract
California's Sexually Violent Predator Act (SVPA) incorporates punitive and rehabilitative elements which split control over Sexually Violent Predators between medial and judicial institutions. These institutions struggle to control and define the rehabilitation of individual offenders. As a result, the implementation of the SVPA is fundamentally flawed. This paper argues: 1) sex offenders are treated as both culpable and sick, which impairs their rehabilitation; 2) the SVPA incorporates both determinative and indeterminate incarceration, which runs contrary to the basic foundation of the American legal system; 3) the struggle between medical and judicial elements has played out in the public forum, which has lead to the creation of inappropriate and inhumane policies. As a result of the criminal vs. medical struggle, the SVPA is unable to effectively rehabilitate or reintegrate Sexually Violent Predators back into society and thereby increases the risk of recidivism.
Keywords
Sexually Violent Predator,
California,
Medicalization
Publication Date
March 10, 2009
Citation Information
Valerie A Kraml. "Our Culpable Sickness: California's Sexually Violent Predator's Act"
ExpressO
(2009)
Available at: http://works.bepress.com/valerie_kraml/1/