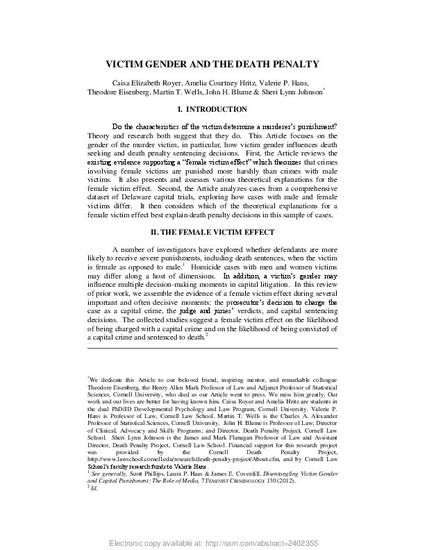 Article
Victim Gender and the Death Penalty
Cornell Law Faculty Publications
Publication Date
1-1-2014
Keywords
Capital crimes,
Capital sentences,
Death sentences,
Female victim effect,
Victim gender,
Victim race
Abstract
Previous research suggests that cases involving female victims are more likely to result in death sentences. The current study examines possible reasons for this relationship using capital punishment data from the state of Delaware. Death was sought much more for murders of either male or female white victims compared to murders of black male victims. Analyzing capital sentencing hearings in Delaware from 1977-2007 decided by judges or juries, we found that both characteristics of the victims and characteristics of the murders differentiated male and female victim cases. The presence of sexual victimization, the method of killing, the relationship between the victim and the defendant, and whether or not the victim had family responsibilities all predicted the likelihood of a death sentence and help to explain why cases with female victims are more likely to be punished with a death sentence.
Publication Citation
Published in: UMKC Law Review, Vol. 82, No. 2 (Winter 2014).
Citation Information
Caisa Elizabeth Royer, Amelia Courtney Hritz, Valerie P. Hans, Theodore Eisenberg, et al.. "Victim Gender and the Death Penalty" (2014)
Available at: http://works.bepress.com/valerie_hans/84/