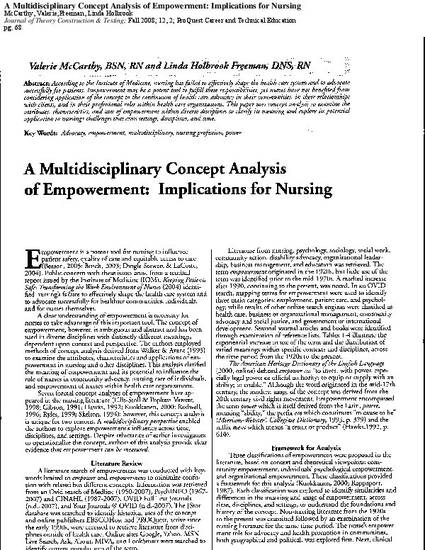 Article
A multidisciplinary concept analysis of empowerment : implications for nursing.
Faculty Scholarship
Publication Date
10-1-2008
Abstract
According to the Institute of Medicine, nursing has failed to effectively shape the health care system and to advocate successfully for patients. Empowerment may be a potent tool to fulfill these responsibilities, yet nurses have not benefited from considering application of the concept to the continuum of health care advocacy in their communities, in their relationships with clients, and in their professional roles within health care organizations. This paper uses concept analysis to examine the attributes, characteristics, and uses of empowerment within diverse disciplines to clarify its meaning and explore its potential application to nursing's challenges that cross settings, disciplines, and time.
Citation Information
This article was originally published in Journal of Theory Construction & Testing, volume 12, number 2, in 2008.