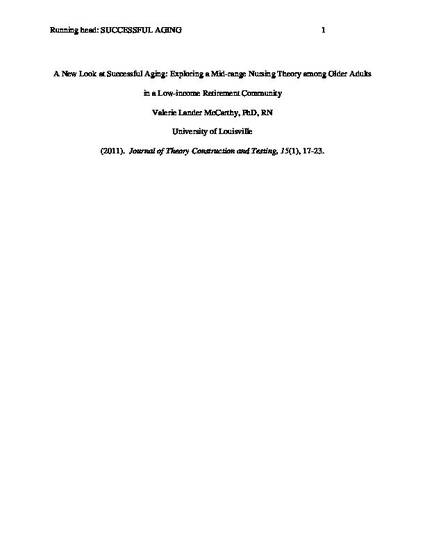 Article
A new look at successful aging : exploring a mid-range nursing theory among older adults in a low-income retirement community.
Faculty Scholarship
Publication Date
1-1-2011
Abstract
The current view of successful aging excludes elders with disease or disability, limits the potential for success among disadvantaged populations, and fails to consider older adults' own criteria for success, especially in the existential or spiritual domain. This cross-sectional study was a preliminary investigation of a mid-range nursing theory (Flood, 2005) of successful aging. A random, stratified sample (N= 112) was used. Questionnaires were administered to small groups of non-demented older adults. Relationships among study variables were examined using hierarchical multiple regression. Adaptation and transcendence explained 45.4% of the variance in successful aging, independent of age, income, function, and health. Transcendence accounted for 2.5 times the effect of adaptation.
Citation Information
This is a pre-copy-editing, author-produced PDF of an article accepted for publication in Journal of Theory Construction & Testing, volume 15, issue 1, in 2011, following peer review.