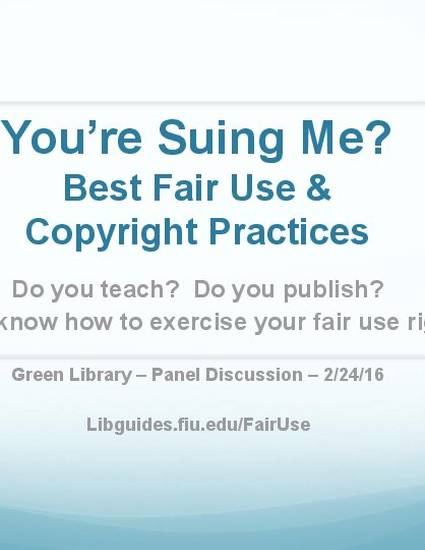 Presentation
You're Suing Me? Best Fair Use & Copyright Practices
Works of the FIU Libraries
Date of this Version
2-24-2016
Document Type
Presentation
Abstract
Do you teach? Do you publish? Do you know how to exercise your fair use rights?
This panel discussion focuses on fair use and copyright practices.
Panels include:
The Basics – Get a general overview of fair use and methods for making fair use decisions, including the four factors and best practices.
Blackboard Behavior! - Learn about best practices when building course content and assignments in Blackboard. Find out about the TEACH Act and how it impacts teaching online.
Good Intentions: Fair Use, Images, and ETDs – Learn about the fair use guidelines pertaining to the use of images in research can be used to help determine if the use of the images would be appropriate.
Fair Use for Digitized Materials - Learn how to identify how fair use may apply to digitized materials and the way to utilize them in your work.
Citation Information
Stephanie Brenenson, Sarah J Hammill, Valerie L Boulos, Jamie Rogers, et al.. "You're Suing Me? Best Fair Use & Copyright Practices" (2016)
Available at: http://works.bepress.com/valerie-boulos/4/