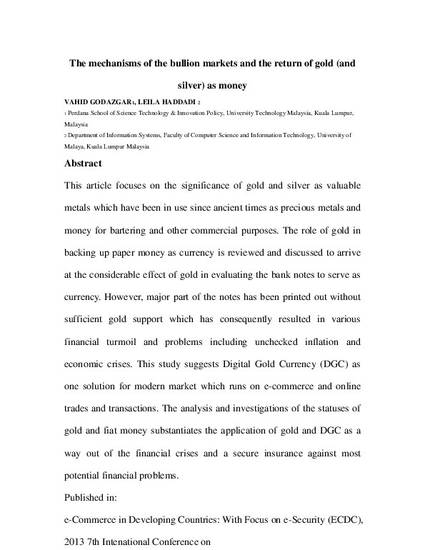 Article
The mechanisms of the bullion markets and the return of gold (and silver) as money.pdf
e-Commerce in Developing Countries: With Focus on e-Security (ECDC) (2013)
Abstract
This article focuses on the significance of gold and silver as valuable metals which have been in use since ancient times as precious metals and money for bartering and other commercial purposes. The role of gold in backing up paper money as currency is reviewed and discussed to arrive at the considerable effect of gold in evaluating the bank notes to serve as currency. However, major part of the notes has been printed out without sufficient gold support which has consequently resulted in various financial turmoil and problems including unchecked inflation and economic crises. This study suggests Digital Gold Currency (DGC) as one solution for modern market which runs on e-commerce and online trades and transactions. The analysis and investigations of the statuses of gold and fiat money substantiates the application of gold and DGC as a way out of the financial crises and a secure insurance against most potential financial problems.
Publication Date
Spring April 18, 2013
DOI
10.1109/ECDC.2013.6556735
Citation Information
Vahid Godazgar. "The mechanisms of the bullion markets and the return of gold (and silver) as money.pdf"
e-Commerce in Developing Countries: With Focus on e-Security (ECDC)
(2013)
Available at: http://works.bepress.com/vahid-godazgar/3/