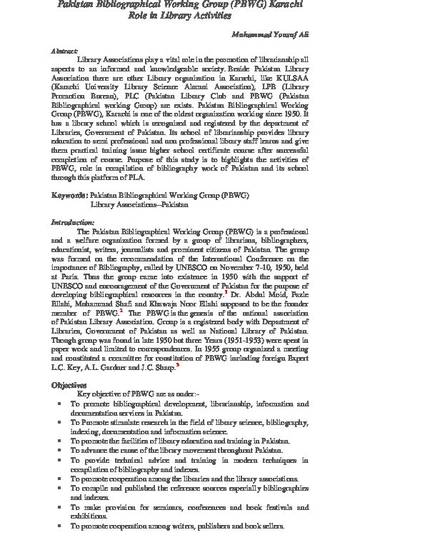 Article
Pakistan Bibliographical Working Gourp (PBWG) Karachi: Role in Library Activities
Pakistan Journal of Library and Information Science (2014)
Abstract
Library Associations play a vital role in the promotion of librarianship all aspects to an informed and knowledgeable society. Beside Pakistan Library Association there are other Library organization in Karachi, like KULSAA (Karachi University Library Science Alumni Association), LPB (Library Promotion Bureau), PLC (Pakistan Library Club and PBWG (Pakistan Bibliographical working Group) are exists. Pakistan Bibliographical Working Group (PBWG), Karachi is one of the oldest organization working since 1950. It has a library school which is recognized and registered by the department of Libraries, Government of Pakistan. Its school of librarianship provides library education to semi professional and non professional library staff learns and give them practical training issue higher school certificate course after successful completion of course. Purpose of this study is to highlights the activities of PBWG, role in compilation of bibliography work of Pakistan and its school through this platform of PLA.
Keywords
Pakistan Bibliographical Working Group (PBWG),
Library Associations--Pakistan
Publication Date
September 1, 2014
Citation Information
Muhammad Yousuf Ali. "Pakistan Bibliographical Working Gourp (PBWG) Karachi: Role in Library Activities"
Pakistan Journal of Library and Information Science
Vol. 45 Iss. 3 (2014)
Available at: http://works.bepress.com/usuf/1/