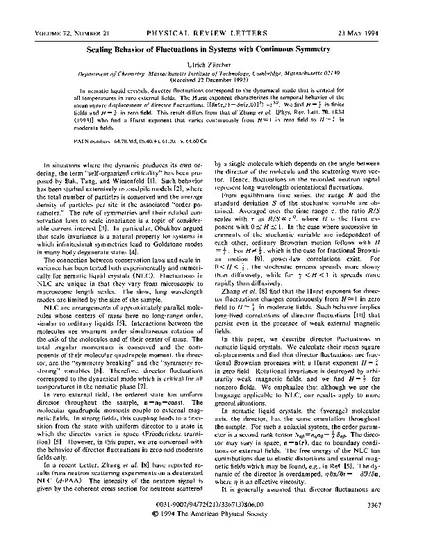 Article
Scaling Behavior of Fluctuations in Systems with Continuous Symmetry
Physical Review Letters
Publication Date
5-23-1994
Abstract
In nematic liquid crystals, director fluctuations correpond to the dynamical mode that is critical for all temperatures in zero external fields. The Hurst exponent characterizes the temporal behavior of the mean square displacement of director fluctuations, 〈[δn(r,t)-δn(r,0)]2〉∼t2H. We find H=1/2 in finite fields and H=3/4 in zero field. This result differs from that of Zhang et al. [Phys. Rev. Lett. 70, 1834 (1993)] who find a Hurst exponent that varies continuously from H≃1 in zero field to H≃1/2 in moderate fields.
DOI
10.1103/PhysRevLett.72.3367
Publisher's Statement
©1994 American Physical Society
Citation Information
Ulrich Zürcher. "Scaling Behavior of Fluctuations in Systems with Continuous Symmetry"
Physical Review Letters
Vol. 72 Iss. 21 (1994) p. 3367
Available at: http://works.bepress.com/ulrich_zurcher/30/