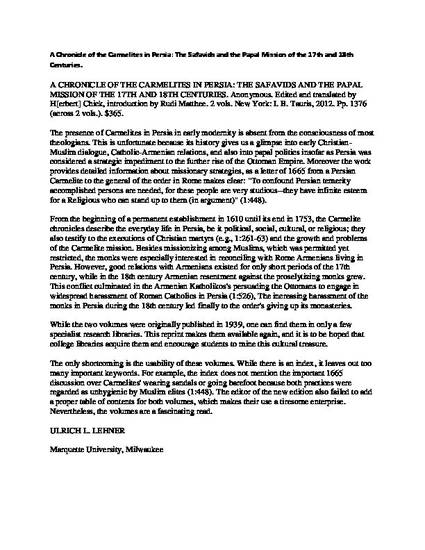 Article
Review of A Chronicle of the Carmelites in Persia: The Safavids and the Papal Mission of the 17th and 18th Centuries
Theological Studies
Publication Date
9-1-2013
Publisher
Theological Studies, Inc.
Original Item ID
Shelves: BX 801 .T45 Memorial Periodicals
Abstract
[...]the work provides detailed information about missionary strategies, as a letter of 1665 from a Persian Carmelite to the general of the order in Rome makes clear: "To confound Persian temerity accomplished persons are needed, for these people are very studious-they have infinite esteem for a Religious who can stand up to them (in argument)" (1:448).
Citation Information
Ulrich Lehner. "Review of A Chronicle of the Carmelites in Persia: The Safavids and the Papal Mission of the 17th and 18th Centuries"
Theological Studies
(2013) ISSN: 0040-5639
Available at: http://works.bepress.com/ulrich_lehner/32/