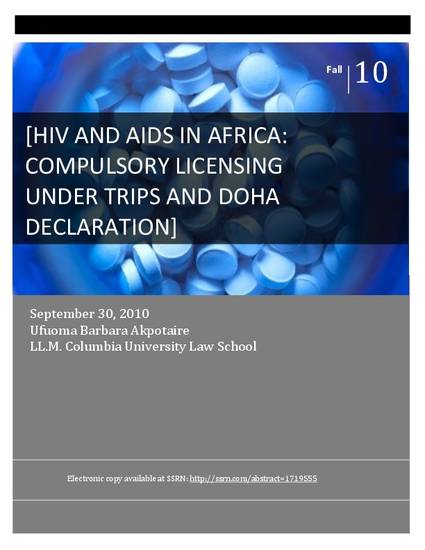 Article
HIV AND AIDS IN AFRICA: Compulsory Licensing Under TRIPS And DOHA Declaration
International Trade eJournal, Vol 2, Issue 231; IO: Productivity, Innovation & Technology eJournal Vol 2, Issue 169, December 08, 2010; Public Health Law & Policy eJournal Vol 2, Issue 94, December 16, 2010. (2010)
Abstract
In today's world, there is a lot of focus on issues such as militancy, global warming, terrorism, racism and even politics. Unfortunately, there is a problem that has killed and is still killing far more people than any of the above issues. That problem is HIV/AIDS.
AIDS is a serious medical condition that predisposes patients towards opportunistic infecting tumors, dementia and death. HIV is the viral agent associated with AIDS. Africa is without doubt more heavily affected by HIV/AIDS than any other region of the world. Although Nigeria's HIV/AIDS prevalence rate is still relatively low compared to some countries in Sub-Saharan Africa, however, Nigeria is at a critical point where increased prevention and treatment efforts today could help stem the tide of a much more significant epidemic in the future.
Access to affordable Antiretroviral (ARV) medicines is vital for survival of patients. This is because these ARV can slow down and reverse the progression of HIV infection subsequently delaying the onset of AIDS by at least 20 years. Unfortunately the spread of HIV/AIDS in Africa is quickly outpacing the number of people receiving treatment. The implication of this wide spread is that to many Africans, the words HIV/AIDS are equivalent to a death sentence.
This paper will examine the importance of compulsory licensing to facilitate access to life-serving medications for Africans and will explore the global debate on the TRIPS Agreement and public health, as it has evolved over the years. Specifically, it will focus on the implications, and limitations, of the Doha Declaration to compulsory licensing. The paper will further make recommendations for narrowing the divergence between the needs of HIV/AIDS patients and the protection of patent holders Intellectual Property Rights (IPRS).
Publication Date
Winter December 17, 2010
Citation Information
Ufuoma Barbara Akpotaire. "HIV AND AIDS IN AFRICA: Compulsory Licensing Under TRIPS And DOHA Declaration"
International Trade eJournal, Vol 2, Issue 231; IO: Productivity, Innovation & Technology eJournal Vol 2, Issue 169, December 08, 2010; Public Health Law & Policy eJournal Vol 2, Issue 94, December 16, 2010.
(2010)
Available at: http://works.bepress.com/ufuoma_barbara_akpotaire/2/