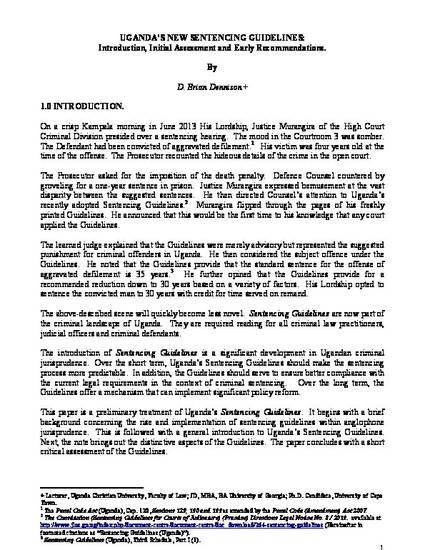 Unpublished Paper
Uganda's New Sentencing Guidelines: Introduction, Initial Assessment and Early Recommendations
Uganda Christian University Law Review (2014)
Abstract
In April of 2013 the Chief Justice of Uganda issued the Constitution (Sentencing Guidelines for the Courts of (Practice). In doing so Uganda joined a movement of criminal justice reform that cuts across anglophone jurisdictions. This article includes a general background on the emergence of sentencing guidelines and the two primary structural approaches to sentencing guidelines design.
This article's primary purpose is to offer a preliminary critical assessment of Uganda's Sentencing Guidelines. An overview of key features in the Sentencing Guidelines serves as a prelude to the analytical content.
Uganda's Sentencing Guidelines are a commendable effort. They are more than mere recastings of foreign guidelines. The Guidelines include several features that are tailored to fit the needs, circumstances and culture of the Ugandan context. Noteworthy elements in the Guidelines include the incorporation of restorative justice, community engagement and pragmatic approaches adjusted to the limited present capacity of government services.
While the Guidelines are a praiseworthy development, there are several improvements and adjustments that could be made to improve them over time. Suggested adjustments include clear sentencing incentives for defendants to accept responsibility without going to trial and the modification of elements of the Guidelines that potentially lead to the denial of due process.
Keywords
Sentencing Guidelines,
Uganda,
Plea Bargaining
Citation Information
David B Dennison. "Uganda's New Sentencing Guidelines: Introduction, Initial Assessment and Early Recommendations"
Uganda Christian University Law Review
(2014)
Available at: http://works.bepress.com/uculaw/6/