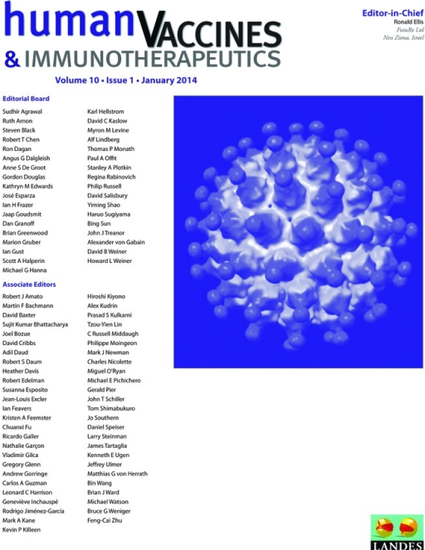 Article
Age and Psychological Influences on Immune Responses to Trivalent Inactivated Influenza Vaccine in the Meditation or Exercise for Preventing Acute Respiratory Infection (MEPARI) Trial
Human Vaccines & Immunotherapeutics
Publication Date
1-1-2014
Abstract
BACKGROUND: Strategies to improve influenza vaccine protection among elderly individuals are an important research priority. Mindfulness-based stress reduction (MBSR) and exercise have been shown to affect aspects of immune function in some populations. We hypothesized that influenza vaccine responses may be enhanced with meditation or exercise training as compared with controls. RESULTS: No differences in vaccine responses were found comparing control to MBSR or exercise. Individuals achieving seroprotective levels of influenza antibody ≥160 units had higher optimism, less anxiety, and lower perceived stress than the nonresponders. Age correlated with influenza antibody responses, but not with IFNγ or IL-10 production. CONCLUSION: The MBSR and exercise training evaluated in this study failed to enhance immune responses to influenza vaccine. However, optimism, perceived stress, and anxiety were correlated in the expected directions with antibody responses to influenza vaccine. METHODS: Healthy individuals≥50 y were randomly assigned to exercise (n=47) or MBSR (n=51) training or a waitlist control condition (n=51). Each participant received trivalent inactivated influenza vaccine after 6 weeks, and had blood draws prior to and 3 and 12 weeks after immunization. Serum influenza antibody, nasal immunoglobulin A, and peripheral blood mononuclear cell interferon-γ (IFNγ) and interleukin-10 (IL-10) concentrations were measured. Measures of optimism, perceived stress, and anxiety were obtained over the course of the study. Seroprotection was defined as an influenza antibody concentration≥160 units. Vaccine responses were compared using ANOVA, t tests, and Kruskal-Wallis tests. The correlation between vaccine responses and age was examined with the Pearson test.
Version
pre-print, post-print
Citation Information
Mary S. Hayney, Christopher L. Coe, Daniel Muller, Chidi N. Obasi, et al.. "Age and Psychological Influences on Immune Responses to Trivalent Inactivated Influenza Vaccine in the Meditation or Exercise for Preventing Acute Respiratory Infection (MEPARI) Trial"
Human Vaccines & Immunotherapeutics
Vol. 10 Iss. 1 (2014) p. 83 - 91
Available at: http://works.bepress.com/uba-backonja/1/