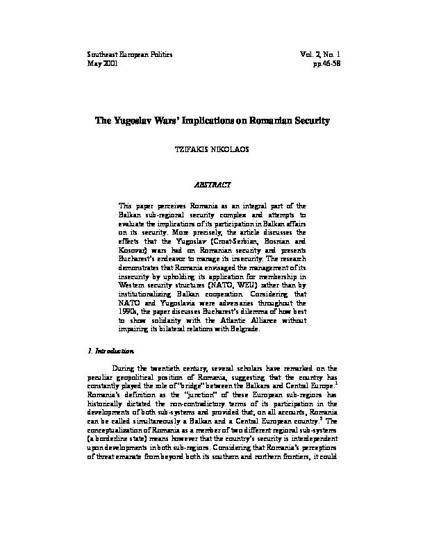 Article
The Yugoslav Wars' Implications on Romanian Security
Southeast European Politics (2001)
Abstract
This paper perceives Romania as an integral part of the Balkan sub-regional security complex and attempts to evaluate the implications of its participation in Balkan affairs on its security. More precisely, the article discusses the effects that the Yugoslav (Croat-Serbian, Bosnian and Kosovar) wars had on Romanian security and presents Bucharest's endeavor to manage its insecurity. The research demonstrates that Romania envisaged the management of its insecurity by upholding its application for membership in Western security structures (NATO, WEU) rather than by institutionalizing Balkan cooperation. Considering that NATO and Yugoslavia were adversaries throughout the 1990s, the paper discusses Bucharest's dilemma of how best to show solidarity with the Atlantic Alliance without impairing its bilateral relations with Belgrade.
Keywords
Romanian foreign policy,
romanian security,
Yugoslav wars,
NATO,
Kosovo
Publication Date
Spring May, 2001
Citation Information
Nikolaos Tzifakis. "The Yugoslav Wars' Implications on Romanian Security"
Southeast European Politics
Vol. 2 Iss. 1 (2001)
Available at: http://works.bepress.com/tzifakis/14/