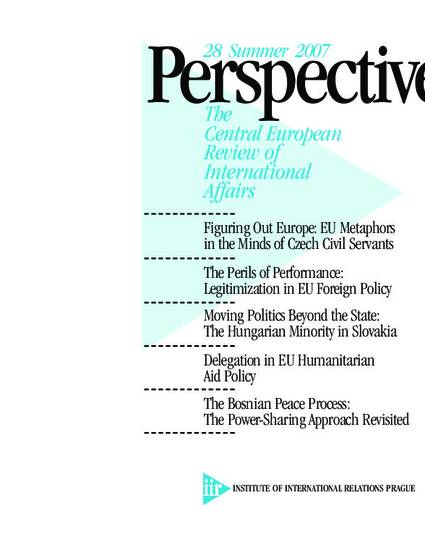 Article
The Bosnian Peace Process: The Power-Sharing Approach Revisited
Perspectives: Review of International Affairs (2007)
Abstract
This article argues that the post-Dayton political organisation of Bosnia represents an exemplary illustration of the difficulties associated with the empirical application of the pluralist model of "consociational democracy". The country's political system has been predicated on the existence of consensus and the spirit of cooperation among the three ethnic groups without, however, offering any electoral or political incentives to their leaderships to cooperate. Also, the inclusion of several elements to the Dayton accords of a partition approach to conflict resolution has even encouraged the ethnic leaderships to maintain their nationalistic programs and their endeavours to exploit the aforementioned power-sharing arrangements. Indeed, the structural deficiencies of the Dayton agreement have permitted nationalists to continue implementing their ethnic agendas and have accounted for the slow progress towards the implementation of the Bosnian peace process. Therefore, this article elaborates on the international policies in Bosnia, aimed at transforming the country into a viable multiethnic state, and highlights the significance of motivations for implementing the peace process.
Keywords
Bosnia,
Dayton,
consociational democracy,
nationalists
Publication Date
Summer June, 2007
Citation Information
Nikolaos Tzifakis. "The Bosnian Peace Process: The Power-Sharing Approach Revisited"
Perspectives: Review of International Affairs
Iss. 28 (2007)
Available at: http://works.bepress.com/tzifakis/10/