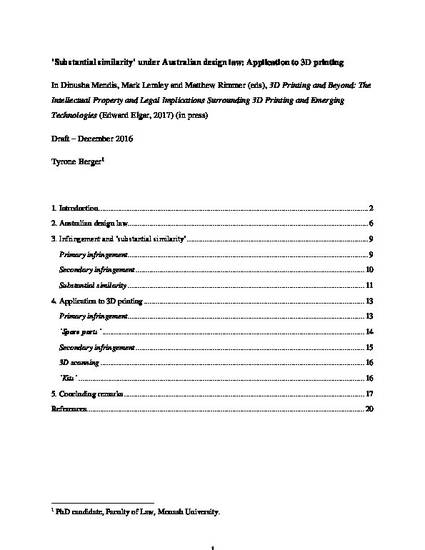 Contribution to Book
'Substantial similarity' under Australian design law: Application to 3D printing
3D Printing and Beyond: The Intellectual Property and Legal Implications Surrounding 3D Printing and Emerging Technologies (2017)
Abstract
Designs are considered the 'poor cousin' of intellectual property rights (IPRs). But that could all be about to change with the advent of 3D printing technologies (or 'additive manufacturing'). Among the chief concerns raised about 3D printing are whether unauthorised versions of registered designs have been created using 3D printing technologies. This has led some commentators to speculate that the potential impact of 3D printing on design-led innovation could mirror the disruption of unauthorised digital downloads had on the music and film industries. This chapter seeks to extend on the recent work of others in Australia. It attempts to fill a previous gap in the literature relating to 3D printing and design infringement. As with all IPRs, a design right is only as effective as the ability of its owner to enforce it. Infringement may be easier to establish when an exact copy of a registered design is created using 3D printing technologies, however, where slight differences exist between the registered design and the alleged infringing work it becomes more challenging. Accordingly, the main focus of this chapter is directed at evaluating the current infringement provisions, and their application to 3D printing technologies. By taking a targeted approach to this subject, hopefully, will open up debate on the potential difficulties facing designers when defending their design rights. After commencing with a brief introduction to Australian design law, the balance of the chapter will focus on whether products created by 3D printing technologies constitute an infringement under the Designs Act 2003 (Cth). It then closes with some remarks about the recent reviews which have touched on the Australian design system.
Keywords
Design law,
3D printing,
Substantial similarity,
Designs Act 2003
Editor
Dinusha Mendis, Mark Lemley and Matthew Rimmer
Publisher
Edward Elgar (in press)
Citation Information
Tyrone Berger. "'Substantial similarity' under Australian design law: Application to 3D printing"
3D Printing and Beyond: The Intellectual Property and Legal Implications Surrounding 3D Printing and Emerging Technologies
(2017)
Available at: http://works.bepress.com/tyrone_berger/24/