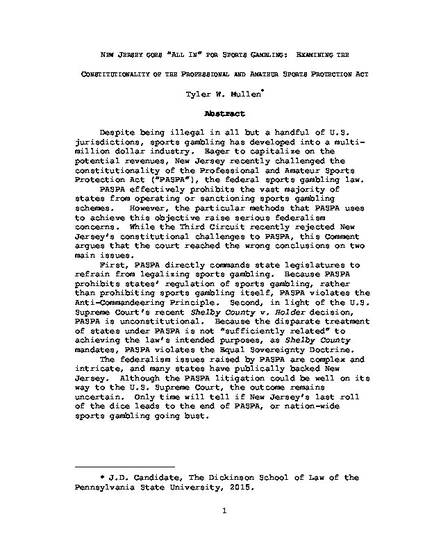 Unpublished Paper
New Jersey Goes "All In" for Sports Gambling: Examining the Constitutionality of the Professional and Amateur Sports Protection Act
ExpressO (2014)
Abstract
Despite being illegal in all but a handful of U.S. jurisdictions, sports gambling has developed into a multi-million dollar industry. Eager to capitalize on the potential revenues, New Jersey recently challenged the constitutionality of the Professional and Amateur Sports Protection Act ("PASPA"), the federal sports gambling law. PASPA effectively prohibits the vast majority of states from operating or sanctioning sports gambling schemes. However, the particular methods that PASPA uses to achieve this objective raise serious federalism concerns. While the Third Circuit recently rejected New Jersey's constitutional challenges to PASPA, this Comment argues that the court reached the wrong conclusions on two main issues. First, PASPA directly commands state legislatures to refrain from legalizing sports gambling. Because PASPA prohibits states' regulation of sports gambling, rather than prohibiting sports gambling itself, PASPA violates the Anti-Commandeering Principle. Second, in light of the U.S. Supreme Court's recent Shelby County v. Holder decision, PASPA is unconstitutional. Because the disparate treatment of states under PASPA is not "sufficiently related" to achieving the law's intended purposes, as Shelby County mandates, PASPA violates the Equal Sovereignty Doctrine. The federalism issues raised by PASPA are complex and intricate, and many states have publically backed New Jersey. Although the PASPA litigation could be well on its way to the U.S. Supreme Court, the outcome remains uncertain. Only time will tell if New Jersey's last roll of the dice leads to the end of PASPA, or nation-wide sports gambling going bust.
Keywords
gambling,
sports,
gaming,
New Jersey,
PASPA,
Professional,
Amateur,
Sports,
Protection,
Act,
Supreme Court,
betting
Publication Date
April 4, 2014
Citation Information
Tyler W Mullen. "New Jersey Goes "All In" for Sports Gambling: Examining the Constitutionality of the Professional and Amateur Sports Protection Act"
ExpressO
(2014)
Available at: http://works.bepress.com/tyler_mullen/1/