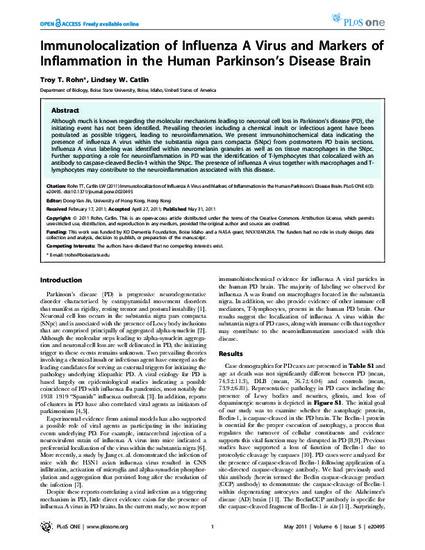 Article
Immunolocalization of Influenza A Virus and Markers of Inflammation in the Human Parkinson's Disease Brain
PLOS ONE
Publication Date
5-31-2011
DOI
http://dx.doi.org/10.1371/journal.pone.0020495
Abstract
Although much is known regarding the molecular mechanisms leading to neuronal cell loss in Parkinson's disease (PD), the initiating event has not been identified. Prevailing theories including a chemical insult or infectious agent have been postulated as possible triggers, leading to neuroinflammation. We present immunohistochemical data indicating the presence of influenza A virus within the substantia nigra pars compacta (SNpc) from postmortem PD brain sections. Influenza A virus labeling was identified within neuromelanin granules as well as on tissue macrophages in the SNpc. Further supporting a role for neuroinflammation in PD was the identification of T-lymphocytes that colocalized with an antibody to caspase-cleaved Beclin-1 within the SNpc. The presence of influenza A virus together with macrophages and Tlymphocytes may contribute to the neuroinflammation associated with this disease.
Citation Information
Troy T. Rohn and Lindsey W. Catlin. "Immunolocalization of Influenza A Virus and Markers of Inflammation in the Human Parkinson's Disease Brain"
PLOS ONE
(2011)
Available at: http://works.bepress.com/troy_rohn/21/