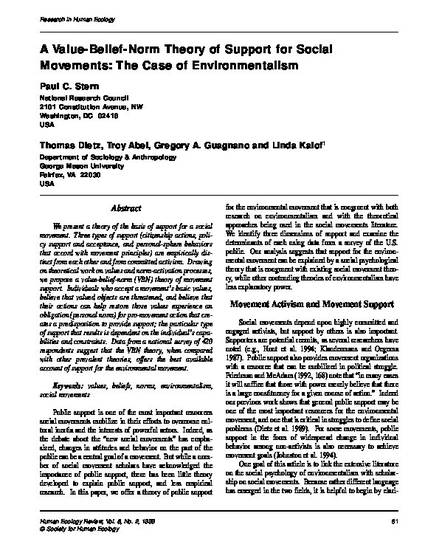 Article
A Value-Belief-Norm Theory of Support for Social Movements: The Case of Environmentalism
Human Ecology Review
Publication Date
1-1-1999
Abstract
We present a theory of the basis of support for a social movement. Three types of support (citizenship actions, policy support and acceptance, and personal-sphere behaviors that accord with movement principles) are empirically distinct from each other and from committed activism. Drawing on theoretical work on values and norm-activation processes, we propose a value-belief-norm (VBN) theory of movement support. Individuals who accept a movement's basic values, believe that valued objects are threatened, and believe that their actions can help restore those values experience an obligation (personal norm) for pro-movement action that creates a predisposition to provide support; the particular type of support that results is dependent on the individual's capabilities and constraints. Data from a national survey of 420 respondents suggest that the VBN theory, when compared with other prevalent theories, offers the best available account of support for the environmental movement.
Subjects - Topical (LCSH)
Environmentalism--Public opinion; Social movements; Social values
Citation Information
Paul C. Stern, Thomas Dietz, Troy D. Abel, Greg Guagnano, et al.. "A Value-Belief-Norm Theory of Support for Social Movements: The Case of Environmentalism"
Human Ecology Review
Vol. 6 Iss. 2 (1999) p. 81 - 97
Available at: http://works.bepress.com/troy_abel/3/