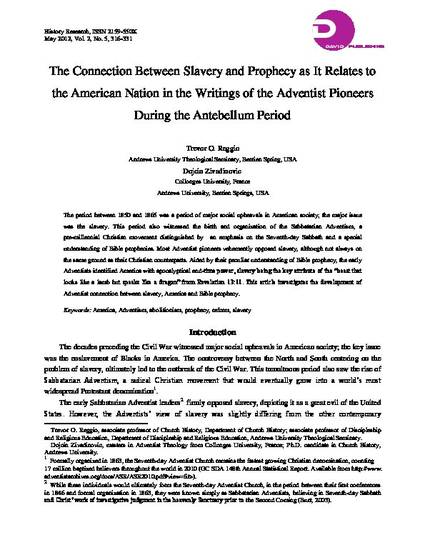 Article
The Connection Between Slavery and Prophecy as it Related to the American Nation in the Writings of the Adventist Pioneers during the Antebellum Period
History Research
Publication Date
5-1-2012
Abstract
The period between 1850 and 1865 was a period of major social upheavals in American society; the major issue was the slavery. This period also witnessed the birth and organization of the Sabbatarian Adventism, a pre-millennial Christian movement distinguished by an emphasis on the Seventh-day Sabbath and a special understanding of Bible prophecies. Most Adventist pioneers vehemently opposed slavery, although not always on the same ground as their Christian counterparts. Aided by their peculiar understanding of Bible prophecy, the early Adventists identified America with apocalyptical end-time power, slavery being the key attribute of the "beast that looks like a lamb but speaks like a dragon" from Revelation 13:11. This article investigates the development of Adventist connection between slavery, America and Bible prophecy.
Citation Information
Trevor O'Reggio and Dojcin Zivadinovic. "The Connection Between Slavery and Prophecy as it Related to the American Nation in the Writings of the Adventist Pioneers during the Antebellum Period"
History Research
(2012) p. 316 - 331
Available at: http://works.bepress.com/trevor_oreggio/59/