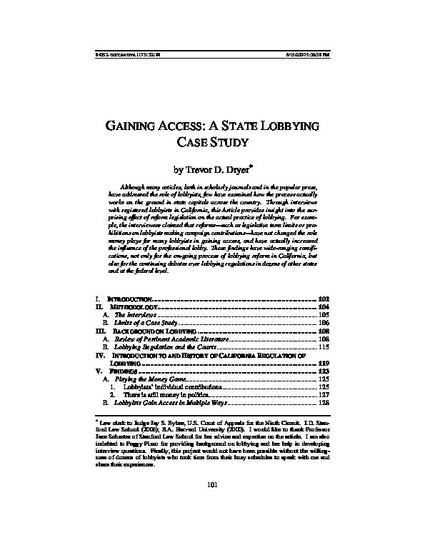 Unpublished Paper
Gaining Access: A State Lobbying Case Study
ExpressO (2007)
Abstract
Although many articles, both in scholarly journals and in the popular press, have addressed the role of lobbyists, few have examined how the process actually works on the ground in state capitols across the country. Through interviews with registered lobbyists in California, this Article provides insight into the sur-prising effect of reform legislation on the actual practice of lobbying. For exam-ple, the interviewees claimed that reforms—such as legislative term limits or pro-hibitions on lobbyists making campaign contributions—have not changed the role money plays for many lobbyists in gaining access, and have actually increased the influence of the professional lobby. These findings have wide-ranging ramifi-cations, not only for the on-going process of lobbying reform in California, but also for the continuing debates over lobbying regulations in dozens of other states and at the federal level.
Keywords
lobbying,
lobbyist,
election law,
term limits
Publication Date
March, 2007
Citation Information
Trevor D. Dryer. "Gaining Access: A State Lobbying Case Study"
ExpressO
(2007)
Available at: http://works.bepress.com/trevor_dryer/1/