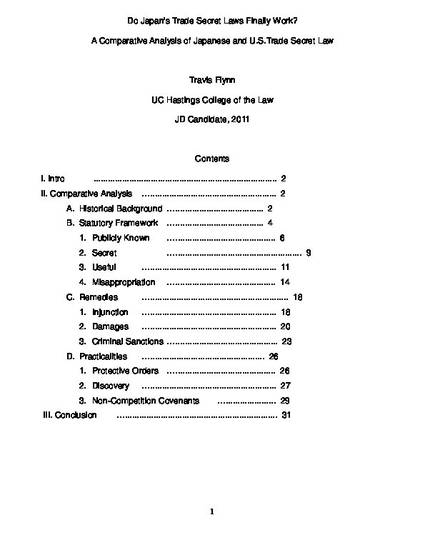 Unpublished Paper
DO JAPANESE TRADE SECRET LAWS FINALLY WORK? A COMPARATIVE ANALYSIS OF JAPANESE AND U.S. TRADE SECRET LAW
ExpressO (2012)
Abstract
This paper will explore and analyze trade secret law in Japan, and how the recent revisions to Japanese trade secret law compares to the doctrine generally followed in the United States. This analysis begins with a very brief examination of the historical differences between the two regions with respect to trade secret protection. The paper then goes into a comparative statutory analysis of the Japanese Trade Secret law, examining each of the "elements" of trade secret misappropriation and comparing those to how they are applied in the United States. The next section examines the remedies and penalties available in Japan under the recent trade secret law, such as damages, injunctive relief, and criminal sanctions. The final section of the paper examines other practicalities of trade secret laws in Japan that would be important to practitioners, such as Protective Orders, Discovery and Non-Competition covenants. Concluding in light of all of the analysis, this paper presents the assertion that trade secret law in Japan now has a comparable statutory framework to that in the United States, with the only remaining uncertainty being how the courts in Japan will ultimately shape the legal doctrine.
Publication Date
February 25, 2012
Citation Information
Travis A Flynn. "DO JAPANESE TRADE SECRET LAWS FINALLY WORK? A COMPARATIVE ANALYSIS OF JAPANESE AND U.S. TRADE SECRET LAW"
ExpressO
(2012)
Available at: http://works.bepress.com/travis_flynn/1/