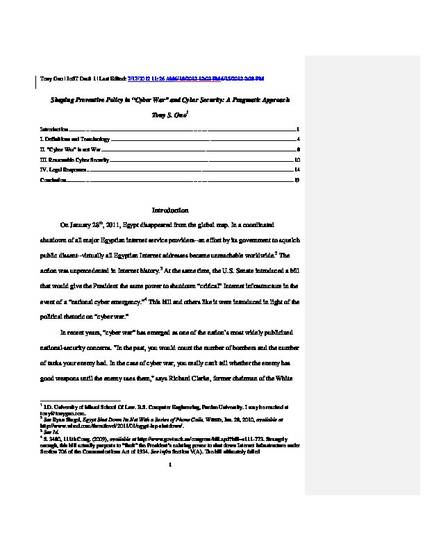 Article
Shaping Preventive Policy in "Cyber War" and Cyber Security: A Pragmatic Approach
J. Cyber Sec. Info. Sys. (2012)
Abstract
As the Egyptian government took the country offline—in an effort to squelch public dissent—the U.S. Senate considers a bill that would give the President the same emergency powers to shut off "critical" Internet infrastructure in the event of a "cyber emergency." This bill, along with others like it, has been introduced in light of recent political rhetoric on "cyber war." The proponents of "cyber war" evoke images of large explosions, poison gas clouds, and a high degree of mortality. In reality, cyber warfare is a misleading metaphor, and has long been confused with crime and espionage. "Cyber war" is not an issue of war, but an issue of security--systems security, network security, and due diligence on part of its operators. The majority of security breaches today are as a result of systems failure and human error, and the legal responses considered should be limited to such. This comment acknowledges that cyber security is relevant to national security, but makes the point that sweeping legislation may have the same effect as the cyber attacks they seek to address—both may have devastating effects on the economic vitality of the nation.
Keywords
cyberwar,
cyber war,
cyberspace,
internet,
cybersecurity,
cyber attack,
cybercrime
Publication Date
Spring May 1, 2012
Citation Information
Tony Guo. "Shaping Preventive Policy in "Cyber War" and Cyber Security: A Pragmatic Approach"
J. Cyber Sec. Info. Sys.
Vol. 1-1 Iss. 14 (2012)
Available at: http://works.bepress.com/tony_guo/2/