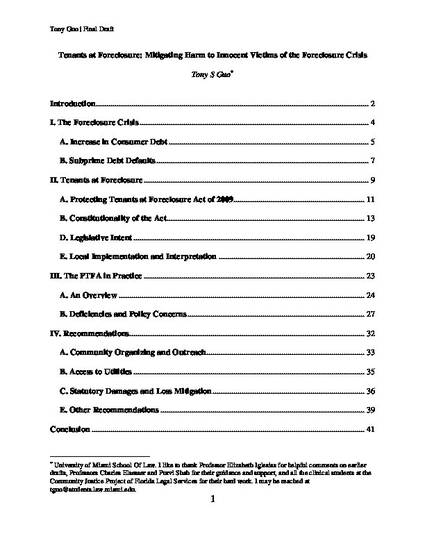 Article
Tenants at Foreclosure: Mitigating Harm to Innocent Victims of the Foreclosure Crisis
Depaul J. For Soc. Just. (2011)
Abstract
An estimated forty percent of families facing foreclosure-related evictions nationwide are tenants. Forced to move out on short notice when their landlords fail to pay the mortgage, many renters not only lose their security deposits, but often see their lives turned upside-down. In response to this dilemma, Congress passed the Protecting Tenants at Foreclosure Act (PTFA) in May, 2009. Through this enactment, Congress sought to protect tenants, who for too long have been the innocent victims of the foreclosure crisis. This comment argues that although the federal legislation marks an important first step in protecting tenants' rights, it is deficient in several respects, primarily due to the lack of general knowledge of the law, the imbalance of power between tenants and landlords, and the absence of any real enforcement mechanisms. Despite the Act's shortcomings, the PTFA is viable legislation, and this comment offers suggestions to aid states and local communities in keeping people in their homes, and thus neighborhoods safe.
Keywords
tenants,
ptfa,
foreclosure,
homeless,
homelessness,
protecting tenants,
tenants at foreclosure,
protecting tenants at foreclosure act
Publication Date
Summer June 1, 2011
Citation Information
Tony Guo. "Tenants at Foreclosure: Mitigating Harm to Innocent Victims of the Foreclosure Crisis"
Depaul J. For Soc. Just.
Vol. 4 Iss. 215 (2011)
Available at: http://works.bepress.com/tony_guo/1/