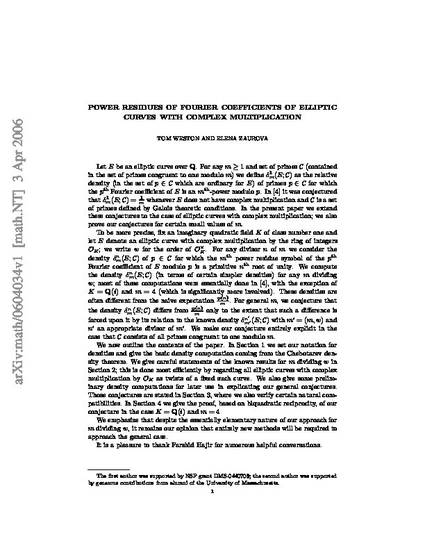 Article
POWER RESIDUES OF FOURIER COEFFICIENTS OF ELLIPTIC CURVES WITH COMPLEX MULTIPLICATION
INTERNATIONAL JOURNAL OF NUMBER THEORY
Abstract
Fix m greater than one and let E be an elliptic curve over Q with complex multiplication. We formulate conjectures on the density of primes p (congruent to one modulo m) for which the pth Fourier coefficient of E is an mth power modulo p; often these densities differ from the naive expectation of 1/m. We also prove our conjectures for m dividing the number of roots of unity lying in the CM field of E; the most involved case is m = 4 and complex multiplication by Q(i).
Citation Information
T Weston and E Zaurova. "POWER RESIDUES OF FOURIER COEFFICIENTS OF ELLIPTIC CURVES WITH COMPLEX MULTIPLICATION"
INTERNATIONAL JOURNAL OF NUMBER THEORY
Vol. 5 Iss. 1 (2009)
Available at: http://works.bepress.com/tom_weston/6/