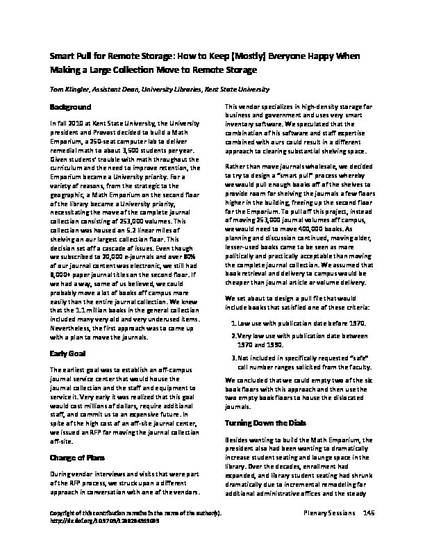 Article
Smart Pull for Remote Storage: How to Keep (Mostly) Everyone Happy When Making a Large Collection Move to Remote Storage
Charleston Library Conference
Abstract
This paper includes an in-depth look at one university library's technique in down-sizing its collection to make room for new services and to provide patrons with a more relevant, useful collection of books. Kent State University's "smart pull" process included moving a large collection of books to remote storage to create these new services in the library. This process led to the sorting of the library's large collection based on factors such as low use and publication date. It also allowed for continuous sorting of the collection as demand for books in the remote storage increased. The paper discusses its strategic technique and explains the challenges faced when trying to keep the majority satisfied with the process. It also highlights the university's steps toward this process and provides an analysis of its successes.
DOI
10.5703/1288284315095
Citation Information
Tom Klingler. "Smart Pull for Remote Storage: How to Keep (Mostly) Everyone Happy When Making a Large Collection Move to Remote Storage"
Available at: http://works.bepress.com/tom_klingler/1/