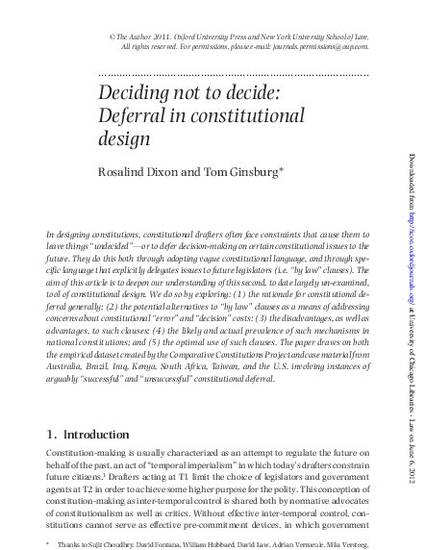 Article
Deciding not to decide: Deferral in constitutional design
I-CON: INTERNATIONAL JOURNAL OF CONSTITUTIONAL LAW (2012)
Abstract
In designing constitutions, constitutional drafters often face constraints that cause them to leave things "undecided"—or to defer decision-making on certain constitutional issues to the future. They do this both through adopting vague constitutional language, and through spe- cific language that explicitly delegates issues to future legislators (i.e. "by law" clauses). The aim of this article is to deepen our understanding of this second, to date largely un-examined, tool of constitutional design. We do so by exploring: (1) the rationale for constitutional de- ferral generally; (2) the potential alternatives to "by law" clauses as a means of addressing concerns about constitutional "error" and "decision" costs: (3) the disadvantages, as well as advantages, to such clauses: (4) the likely and actual prevalence of such mechanisms in national constitutions; and (5) the optimal use of such clauses. The paper draws on both the empirical dataset created by the Comparative Constitutions Project and case material from Australia, Brazil, Iraq, Kenya, South Africa, Taiwan, and the U.S. involving instances of arguably "successful" and "unsuccessful" constitutional deferral.
Citation Information
Tom Ginsburg and Rosalind Dixon. "Deciding not to decide: Deferral in constitutional design"
I-CON: INTERNATIONAL JOURNAL OF CONSTITUTIONAL LAW
(2012)
Available at: http://works.bepress.com/tom_ginsburg/35/