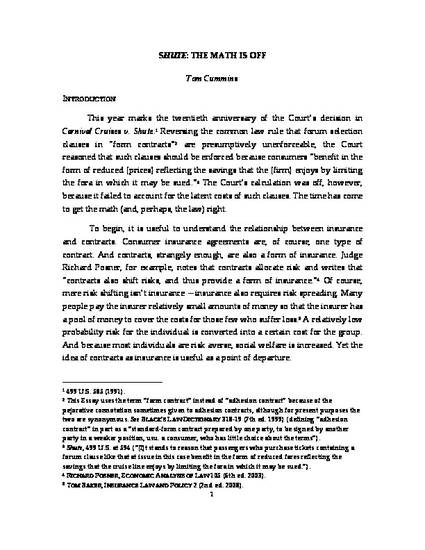 Unpublished Paper
Shute: The Math is Off
ExpressO (2011)
Abstract
This year marks the twentieth anniversary of the Court's decision in Carnival Cruises v. Shute. Reversing the common law rule that forum selection clauses in form contracts are presumptively unenforceable, the Court reasoned that such clauses should be enforced because consumers "benefit in the form of reduced [prices] reflecting the savings that the [firm] enjoys by limiting the fora in which it may be sued." The Court's calculation was off, however, because it failed to account for the latent costs of such clauses. This Essay begins the project of getting the math (and, perhaps, the law). The thesis is that these clauses create a negative externality sufficient to counsel a change in the law back to the pre-Shute rule.
Keywords
economic analysis,
contracts,
law and economics,
behavioral economics
Publication Date
March 8, 2011
Citation Information
Tom Cummins. "Shute: The Math is Off"
ExpressO
(2011)
Available at: http://works.bepress.com/tom_cummins/1/